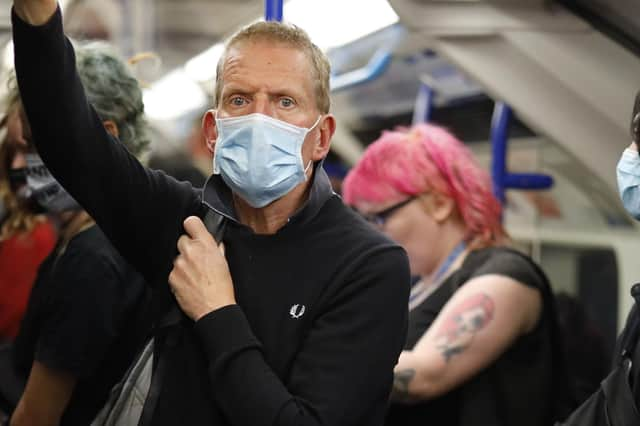 COVER-UP: A face mask wearer on the Tube. Picture: Getty
Back before the pandemic changed everything I used to make the seven-minute journey to and from Fratton twice a day, five days a week.
So it was a weirdly surreal moment to be standing on the platform once again waiting for the carriage doors to open, like a flashback to simpler times.
But the most heartening moment came after stepping aboard when I looked around and saw the rest of the people were all wearing masks too.
Perhaps because I spend too much time online, I've seen so many debates about face coverings that have just left me exasperated. There is a serious discussion to be had about why it took four months into a pandemic before becoming mandatory to wear face coverings indoors. Alas, that is not what people were angry about.
In recent weeks I've seen far too many people shouting at each other about being 'muzzled' by the government because they now have to wear masks on public transport and in shops. More cries of 'freedom' than Mel Gibson's Braveheart – or Americans arguing against universal health care.
So when I first went to the supermarket after the new rules came into force, I expected to feel a sense of sinking despair. Fortunately I was totally wrong and I had fallen into the trap of mistaking the internet for real life.
I should have had more faith in people, after all we all want to see the end of this virus sooner rather than later and wearing a piece of cloth in a shop isn't exactly a big price to pay.
It has not just been at supermarkets that I have seen fellow customers following the face-covering rules, even trips to other types of stores or the convenience shop a few doors down from my home.
Maybe after coronavirus dies down and the pre-pandemic world returns, wearing masks during the flu season will become a normal occurrence here in the way that it has been in the Far East for years.
Will we be catching a train or Christmas shopping in December 2025, looking back and thinking how strange it was not to wear a mask?
A 10pm Tweet to the masses is no way to run a country
I am no government communications expert, but you can't help feeling Number 10 could be doing better right now.
Yes, these are extraordinary times and we should cut it some slack because situations change rapidly. But announcing sweeping changes to lockdown affecting millions via a tweet at 10pm is not the best way of getting the message out – especially when it left people with more questions than answers.
Clearly the government had data that spooked it and in a pandemic you need to act quickly. But couldn't it have put together a quick statement for TV with more detail? It feels like another case of the government shooting itself in the foot.
Fancy making a pact with the devil? Book a foreign holiday
The reinstated quarantine for travellers returning to Britain from Spain came out of the blue.
It caught me off-guard although I'd been off work that week and not followed the news about rising cases in Spain. It isn't surprising really. With the pandemic still going on, this will keep happening.
To risk a holiday in a foreign country right now is like making a Faustian pact and it comes with the high chance that you may have to quarantine unexpectedly. This is just what the Covid-19 world is going to look like in future.
I know I've aired my view on 2020 foreign holidays but it needs repeating. If you want to get away this year, find a beautiful part of the UK.