Shampoo stock-take got me into right old lather | BBC Radio Solent's Alun Newman
In the vain hope that this phase of lockdown speeds up, I was actually pleased when the clocks went forward.
Monday, 29th March 2021, 6:15 pm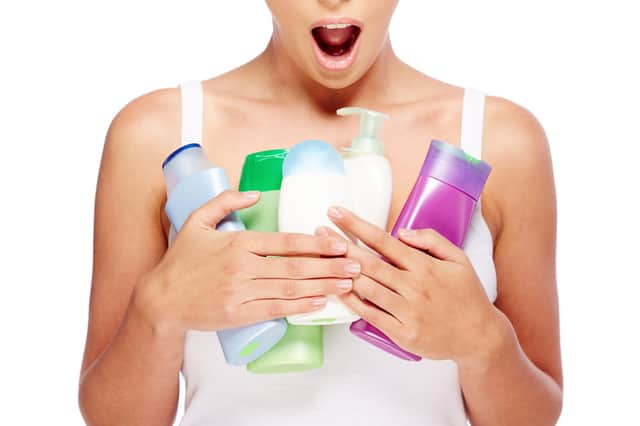 BUBBLES: Bored with lockdown? Why not do a shampoo and conditioner stock-take? Picture: Shutterstock
At least that was an hour closer to something changing.
It's now brighter in the evenings and it will be more like the first lockdown (don't even joke).
In a bid to see if I could push sections of my family to the emotional edge, I have recently finished a stock-take of shampoo and conditioner.
We all have different jobs that we fulfil within the house. Some do vacuuming, others clean the kitchen.
You know the drill with children and a pandemic. It sounds like a good idea but the quality threshold for different jobs is questionable.
The resistance put up is an irritant, however, there's not enough resistance to force a parental retreat.
I usually get the bathroom to clean. Others have tried but you have to be committed to perfection and the willingness wasn't there.
Also required is a broad understanding of different chemicals and my specialist area is the application of lime-scale remover.
I flirt between aggressive, weapons-grade, lung-melting, industrial stuff all the way through to distilled clear vinegar. It's like a martial art except without the village hall training and different coloured belts.
It was while completing the duties that I realised that for months I have been moving around shampoo bottles that have never get any lighter.
New ones are introduced but some seem to stay forever not even half used.
I collected up the culprits and presented them to the ladies of the house.
Ah! A gender bias I hear you not cry.
Well, my son will use anything as I will prove in a moment. I am also just as lazy.
As I presented the various potions, I was surprised by the outcome.
Not only was there a total acceptance that these items were not being used but also there was a story with each one.
For example, the response I got when I held up a green bottle.
It generated this comment: 'Ah, that was from my mum.
'She said it was amazing for dry hair and it stops frizzing but actually, I found the opposite.'
I held up a red and white bottle.
'Aah, that was recommended by a friend at school but it makes my hair look greasy even when it's not.'
I held up a very similar white bottle.
'Ah, that one was a gift and it makes my skin itch. I think it's that anyway.'
A bright orange one. 'I brought that back from holiday.'
Rather than being a moment when awareness floods in and we all agree that we'll use what's open. Instead, every bottle has a story.
It's also safe to say that very few make the grade.
Some of these products are simply no longer trusted. Others have worked but not now.
It quickly became evident there was no possibility of meaningful change.
It was also obvious that I was out of my depth. I didn't even bother asking the difference between a serum and a hair mask. I was a rabbit in headlights.
My next carefully planned move was the only one that would appear to bring balance back to the universe.
I asked them to isolate the ones that were a definite 'no'.
I then decanted them all into the largest bottle. I told my son it was his and that it was for men.
He's been using it for a week now even though it must contain at least 10 different potions. Hence my earlier point.
There are some issues that require years of training. Years I simply don't have. Hair I simply don't have.
I'll stick to being a 10-Dan in the removal of lime scale and the girls can continue their quest for the perfect product.
First there was lockdown, now it's aliens
No-one seems to be worried about the number of meteorites that are currently hitting the UK.
We go from nothing to a veritable onslaught.
One of the rarest asteroids ever found in the UK lands on a driveway in Winchcombe, Gloucestershire, where the Wilcox family are still 'pinching ourselves that it's happened to us!'
It had to land somewhere, Wilcox family. Keep it steady.
I'm glad they were quite astute because to the untrained eye it looked like someone had dropped a disposable barbecue on their drive.
Then another one screamed through the skies of Dorset two weekends ago. It created a sonic boom so loud that a Weymouth musician said his guitar started playing. He did say that it was tuned to a low 'D' chord. That obviously makes some sense to other musicians.
The Fireball Alliance said it was rare to catch both the audio and some images, but more people having CCTV makes this possible.
How many more of these do we have to incur before we all agree this is the opening salvo of a an alien invasion. According to a recent poll of bored UK adults, nearly 25 per cent believe in alien life. That's up 11 per cent in the past year. That's what happens if the only thing you can do is a top-up shop in a Co-op.
You start to dream. You look out to the universe and wonder. No meteorites like this for decades and then two in as many weeks. Just as we're coming out of lockdown. As if we haven't been through enough, aliens are about to land.
A message from the editor, Mark Waldron.