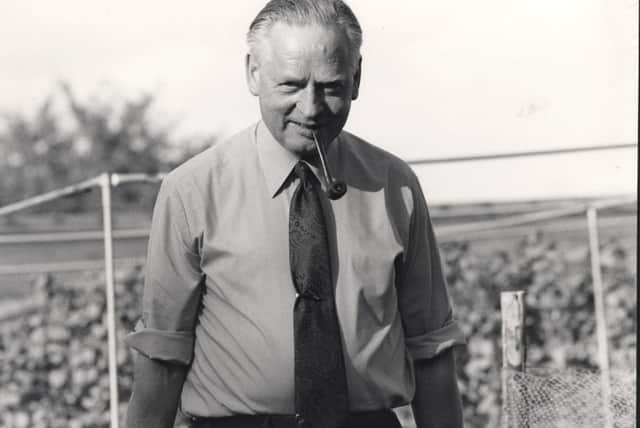 Gardening legend Percy Thrower in his prime
Fortunately for the reader, the only rhyming verse that I am able to recite is the early works of Vanilla Ice and if I've learned one thing over the past 12 months it is not to get too carried away.
To be perfectly honest, the advent of the new season is making me more than a bit twitchy because it means that I have very little left in the way of excuses not to tackle our back garden.
When we finally emerge from our protracted period of stop/start lockdowns, it will be a fair bet that the nation's lawns and hedges will be in the best collective nick in living memory.
All the cancelled plans and the endless 'family weekends' have meant that many people have spent their time weeding, manicuring, and pruning.
Since September, the only thing I have trimmed is my beard, and I am now dreading the time when the longer, and sometimes sunnier, days mean that my lawn will soon resemble a miniature Sherwood Forest.
Even mowing our average-sized lawn is something of a drag for me and don't get me started on strimming.
My aversion to gardening is puzzling because there are plenty of green fingers within the Tapp clan and I spent my childhood traipsing around garden centres, which were pretty much the only things open on a Sunday when I was growing up.
I am just about old enough to remember the final days of our local rag and bone man, not to be confused with the modern-day musician with the tattooed face, and the excitement it caused in our street when his two horses left steaming deposits in the middle of the road.
My Old Man would race into the road with his shovel to claim the freshly laid manure, proudly boasting that 'it's great for the roses, son'.
Like many kids of the '80s, large parts of holidays and weekends were spent visiting the vast grounds of stately homes, while my dad, who was also a keen beekeeper, attempted to educate me about the importance of cross-pollination.
One of my earliest memories is of embarking upon an epic journey in the family's Mark II Escort to visit the Shropshire home of Percy Thrower, the legendary gardener.
My enduring memory of that day is of an immaculate lawn and a sense of crushing disappointment at not meeting the man who famously cultivated the Blue Peter garden.
Not even this brush with horticultural genius could inspire me to take an interest in bedding plants or anything green that climbs walls.
While our garden is neat and reasonably tidy and boasts some colour during the early summer months, it is, by design, easy to maintain.
There is little doubt that the hardworking Mrs Tapp would prefer it if she had a husband who spent his spare time turning our spartan beds into an oasis of bright blooms, but instead she is stuck with the guy who huffs and puffs his way around the lawn with the Qualcast.
Maybe one day, I will learn how to use a trowel properly and appreciate the healing powers of getting one's hands dirty – in a recent interview Queen's Brian May described gardening as therapy – a pastime that helps him overcome his darker days.
I'm sure he is right and there is little doubt that it has helped many through what has been the toughest, not to mention unpredictable, year of our lives.
There is the very real hope that summer 2021 could be one that will live in the memory, probably because we'll be endlessly attending barbecues in the well-kept gardens of family and loved ones.
If that doesn't inspire me to get weeding in the coming weeks, then nothing will.