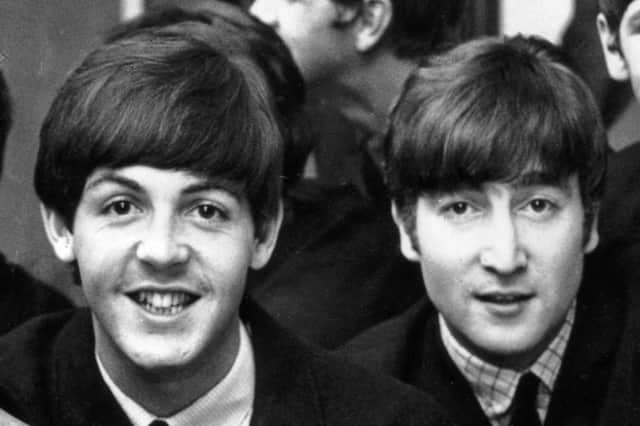 LOVE ME DO: Paul McCartney and John Lennon in 1963 Picture: Keystone/Getty Images
Arguably the greatest singer-songwriter of all time, along with his then partner in crime, Paul
McCartney, Lennon's life was cut short at the age of 40 by a crazed 'fan'.
I wonder what his contribution to the world of music would have been in the following 40 years of his life? Would we have seen The Beatles back together again?
I vaguely remember the news of his murder and the worldwide reaction that followed. Since then, I've become fascinated by the man who wrote some of the world's most popular songs; fascinated by his incredible relationship with McCartney and their ability to write such simple, but beautifully-crafted pop songs.
Then there was the falling out. Was it caused by John meeting Yoko Ono? Was it down to the band appointing Allan Klein to replace Brian Epstein as manager against Paul's wishes? The turbulent ending of the greatest band that ever existed saw Paul take the other three Beatles to court to break it up.
Lennon and McCartney both wrote unpleasant songs about each other in their early solo work. A listen to Lennon's How Do You Sleep? is a must.
We hoped John and Paul made up before his death, but we never saw them together again after 1970, even though they did patch things up. Apparently, Paul dropped in unannounced on John at the Dakota Building in New York and John was annoyed because they were putting his baby son Sean to bed!
Paul apparently often spoke with Yoko after John's death and asked if John had forgiven Paul as he had. He was relieved to hear a 'yes'.
Forty years after his death and 50 since the The Beatles split, the world is still hooked on their music and fascinated by their story. I don't think we'll ever see another John Lennon or witness such success as The Beatles.
I thought S Club 7 stood a chance, but sadly not!
I reckon we might get used to being waited on in pubs
Bravo to those in hospitality at Gosport who are clearly going above and beyond to support the economy and keep us safe, as I found out on Friday night.
My friends and I met at the Village Home, Alverstoke.
We sat at our tables and ordered via an app and beers were delivered to our table. A quick jaunt into Stoke Road and a reserved beer keg, not table, at the Four Ale Taproom and again, table service. I could get used to this!
Then, off to the New Bengal for a splendid curry, each table separated by an acrylic screen to keep us Covid safe and soundproofed. Lovely. By 10pm we were on our way home and I was back in time for Match of the Day.
DJ Boris at breakfast? He'd just talk all over the records
Latest rumour is that once he's got us through Covid and Brexit, Boris Johnson will resign as PM as the money isn't that good.
He's used to earning much more than the PM's £150,000 salary and hearing that Theresa May has been cashing in after handing him the keys to Number 10, he's looking for bigger pay cheques.
He's already a well-paid civil servant but not in the same league as other civil servants who work for the BBC. If he's after a seven-figure sum my sources tell me his football knowledge isn't great, so Match of the Day is out of the question. Which leaves Radio 2's breakfast show where he'll be at home talking nonsense over the records.