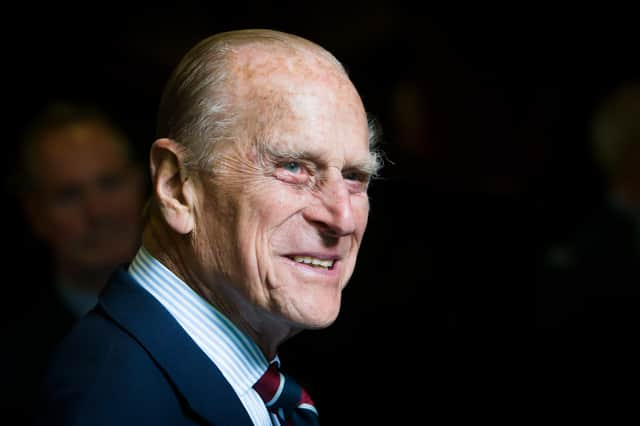 Prince Philip, Duke of Edinburgh pictured in July 2015 in Edinburgh, Scotland. (Photo by Danny Lawson - WPA Pool/Getty Images)
I was running along Southsea and it stopped me in my tracks – literally.
I don't know why exactly. It's not like I knew him.
Despite making so many royal documentaries in the past, none of them had a focus on Philip as such, but he was always there.
He was the Queen's right-hand man, the love of her life, her confidante.
Wherever the Queen was, he was, somewhere, usually by her side or in the background.
My heart just went out to her. Not because she's the Queen, but because she's a woman who has spent her entire life with one man and in a blink of an eye he's gone.
I find it hard to get my head around that – I always have.
Mortality is a weird thing and I can't begin to imagine how she must feel and I try really hard to not let my own brain 'go there' when I think about how fragile life is.
He was here, one of the most important figures in the monarchy and now he's gone. Just like that.
I was amazed and humbled by the public's response to his death, which included outpourings of condolences and messages of respect from everyone.
They were n ot just from famous people, but from the general public who called in to radio stations to share their stories or memories of the Duke and how radio and TV stations paid tributes that went on for days.
I just found it all very respectful and I was proud that we are the nation we are.
We've had a tough time lately – made tougher by another lockdown, more covid news and now the death of the Duke of Edinburgh – wh at a time.
But as usual, we've done what we always do in times of crisis – we've pulled together, we've rallied around and proven that, once again, we're united.
I pray his funeral this weekend is just as respectful.
A n unwell baby does not make for a happy household
Having a baby is tough. It's tough on your emotions; tough on your relationships; tough to work – just tough.
It's also the most powerful and incredible thing I have ever done but it is testing. Harley's been rough this week – the dreaded 'nursery lurgy' has encroached and our usually happy girl has been full of snot and cold. She has passed it on to Matt and I and we're all just feeling rather sorry for ourselves.
It doesn't help that Harley's had some teeth coming through at the same time.
Our patience has been tested. I never knew the patience I had until I became a mum, but I surprise myself sometimes. I just hope she starts feeling okay soon, for all our sakes…​​​​​​​​​​​​​​​​​​​​​​​​​​​​
Matt's birthday is the only excuse I have for a lie-in
Happy Birthday to my incredible husband and father to Harley – Matt.
I can't believe it's been a whole year since we celebrated his 40th in lockdown. Now at 41 we've spent his birthday at Marwell Zoo (not really for him obviously) and our first night away from Harley for about eight months at least.
We're going to the pub for a nice meal and while I'd love to dress up, I can't bear the thought of being cold and I'm taking a hot water bottle with me. It may not be a sexy look, but I won't last more than 20 minutes outside if I'm cold.
We've waited a long time for a pint and even longer fo r a lie in. I can't contain my excitement for sleeping in past 6am!