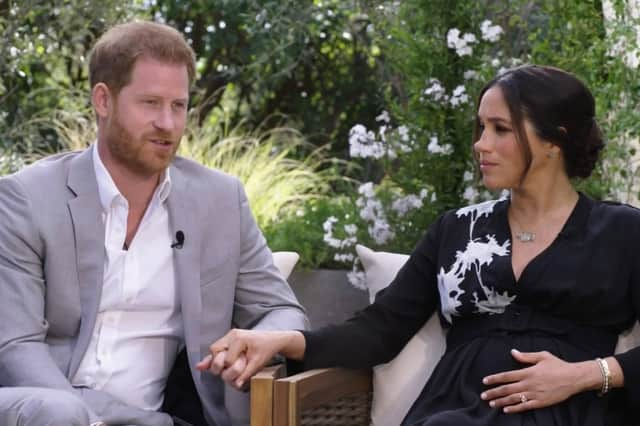 Screen grab photo supplied by ITV Hub courtesy of Harpo Productions/CBS showing the Duke and Duchess of Sussex during their interview with Oprah Winfrey which was broadcast in the US on March 7 and in the UK on March 8. Issue date: Monday March 8, 2021.
The hotly-anticipated tell-all revealed how Meghan had felt suicidal after the oppressive regime of life in 'The Firm'.
It also unveiled the racism Meghan, whose mother is black and father is white, had faced from the Royal Family, with one unnamed person apparently asking how dark her son's skin would be when he was born.
And yet despite all these huge claims, what was the headline the Daily Express led with about the interview? 'Meghan's bombshell: Kate made me cry'.
Important arguments and revelations reduced to the triviality of who made who cry. It's not just pathetic – it's shameful.
But sadly, it's not surprising: the vitriol from the toxic tabloid press towards Meghan has been unrelenting, tinged with undeniable racist overtones and blatant sexist remarks.
Duplicitous headlines comparing how the press covered the identical situation between Meghan and her sister-in-law, the Duchess of Cambridge, spread like wildfire on social media.
For example, the Daily Mail gushed over Kate Middleton and her baby bump with the headline: 'Not long to go! Pregnant Kate tenderly cradles her baby bump while wrapping up her royal duties ahead of maternity leave…'
Compare that to how Meghan's 'bump' was headlined: 'Why can't Meghan Markle keep her hands off her bump? Experts tackle the question that has got the nation talking: is it pride, vanity, acting - or a new age bonding technique'.
What a load of complete tripe. It smacks of a bullying agenda.
And then there was avocado gate (which is, tragically, a thing).
The Daily Express celebrated Kate's 'cure for morning sickness' – an avocado gifted to her by Prince William.
And yet the same paper launches an attack on Meghan for eating the nutty green fruit: 'Meghan Markle's beloved avocado links to human rights abuse and drought, millennial shame', it said.
As a member of the press, it's embarrassing to see and is something I have a duty to call out.
But it speaks to a deeper problem that plagues our society – racism. As a white male, I have never experienced racism. But not all have been so fortunate.
'I face racism every single day, it's exhausting,' Black Lives Matter campaigner Midia Medina, from Portsmouth, told me today. 'What Meghan faced is nothing new. It's so frustrating.
'Black people are constantly shot down for saying they face racism. People say the UK isn't racist: I would dare you to say that after living a week in my shoes.'
Meghan said the Royal Family was willing to 'lie' to protect other royals and weren't willing to help her during her mental health crisis which she shockingly admitted left her 'not wanting to be alive anymore'.
Fearing she was suicidal, Meghan spoke of how she wept.
All the claims are explosive and will rock the Royal Family to its core.
It's a sad and sorry state of affairs, one that should be an embarrassment for national tabloid press and that shatters the fairy tale facade of the Royal Family.
A message from the Editor, Mark Waldron
The News is more reliant than ever on you taking out a digital subscription to support our journalism.
You can subscribe here for unlimited access to Portsmouth news online - as well as our new Puzzles section.