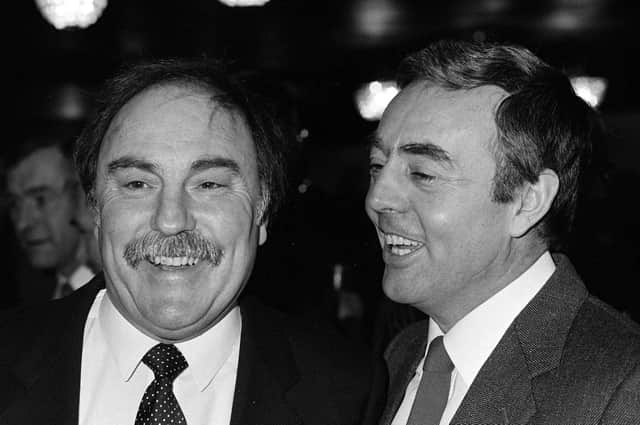 FUN: Ian St John (right) and Jimmy Greaves. Picture: Setanta/PA
Saint and Greavsie was essential Saturday afternoon viewing for a young lad who was football mad and these two were the first to bring fun and entertainment to football coverage.
Back in the day the BBC was far too stuffy for me. ITV or TVS as we called it locally, was much cooler.
It was far more anarchic on the commercial station and it was the same for the sport offering too.
Boring old Football Focus appeared during Grandstand, whereas football got its own show on ITV.
Putting Ian St John and Jimmy Greaves together was a stroke of telly genius. They were the Morecambe and Wise of the football scene.
Fun banter between the two and brilliant interviews and features behind the scenes with guests, the two being great footballers themselves, were part of the inner sanctum.
The Saint was an integral part of Bill Shankly's legendary Liverpool team of the 1960s, the team that started the club's dominance of the sport in England until 1991.
Jimmy Greaves was one of the greatest strikers England has ever produced. No doubt he would have started every England game during the 1966 World Cup save for an injury.
But 'The Saint' will also be remembered locally as a Pompey manager. Back in 1974, chairman John Deacon prised the young manager away from Scottish club Motherwell with promise of funds to return Pompey to the big time.
The investment didn't come and eventually St John was sacked in 1977 after relegation to the Third Division which saw the start of our massive decline.
Fans at the time though will remember how he always gave his best, brought through youth players and made his team play attractive football. He was also well liked in Emsworth where he lived, regularly seen in local shops and always had time to speak to people.
Always remembered for his big smile and big heart, the game has lost a real legend. RIP Saint.
Our lockdown luxury has made an early comeback this year
It's back! It wasn't due to return until at least April but we felt we needed it. Something was missing. Somewhere where we could unwind, sit together and chat, just the two of us.
I'm talking about the hot tub! Last summer we treated ourselves to one of those inflatable spas after our cruise was cancelled. They were sold out everywhere so we were lucky to get one.
We enjoyed it until Christmas and then packed it away.
But the lovely weather inspired us to bring it out again and for the first time since lockdown, we just sat next to each other and chatted after the kids had gone to bed, glass of wine in hand. 40C of sheer bliss! The only issue? Getting out!​​​​​​​
Take that! Student kisses goodbye to £182m lotto win
I'm sure we've all daydreamed about winning the lottery and how we would spend the money. As £182m was up for grabs on EuroMillions last week, I had a flutter and a daydream.
What's the worst-case scenario? Your numbers coming up but you didn't buy a ticket? Well, this happened last Friday to a 19-year-old university student in Brighton. Her regular numbers came up and she couldn't believe her luck.
Imagine her excitement! She called Camelot, only to be told she hadn't entered the draw. Beyond gutted. My listeners got me to play Never Forget by Take That to cheer her up.
She'll never forget to buy a ticket again.​​​​​​​​​​​​​​
A message from the editor, Mark Waldron.
Our trial offer starts at just £2 a month for the first two months.