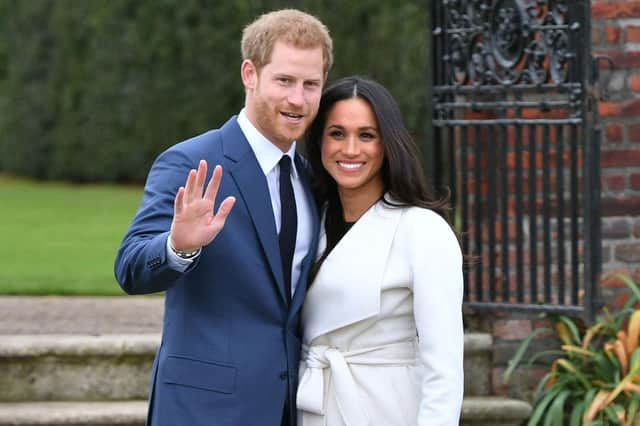 File photo dated 27/11/17 of Prince Harry and Meghan Markle in the Sunken Garden at Kensington Palace, London, after the announcement of their engagement. PA Photo. Issue date: Sunday December 15, 2019. See PA story XMAS Decade. Photo credit should read: Dominic Lipinski/PA Wire
Prince Philip has now been in hospital for more than a week and the Sussexes seem to have burnt the last bridge with the Royals.
The rift that was once between the Californian-based duke and duchess and the working Windsors in the UK has now been transformed into a chasm as wide as the Atlantic Ocean which separates them.
While the Queen had to deal with her husband being admitted to King Edward VII's hospital, London, two bombshells landed in her red box in the form of an Oprah 'tell-all' interview and the fact that Harry and Meghan will step away as working Royals permanently.
Their secondment to California is unlikely to be reversed, with the Duke and Duchess of Sussex being stripped of their HRH titles, honorary military appointments and Royal patronages.
The battle of statements between the two sides has sent shivers down spines and left heads shaking.
However, what is most saddening is the bond between a grandmother and her grandson is almost permanently severed. I feel for Harry, who has removed himself from the only life he has ever known to one that will certainly take some adjustment. But he should have understood his grandmother would not let them have their cake and eat it.
The meaning of 'service' is the root of the divide between the two parties, because they both interpret it so differently.
At 94, the Queen has never known a life away from serving her country. Throughout every scandal that has rocked her family and every event since 1953, she has been steady at the helm.
For the Sussexes to respond to Buckingham Palace's statement of their official departure with the snipe that 'service is universal' is extremely insulting.
Being a working Royal requires teamwork. But removing yourself and living thousands of miles away is not a cheer for team spirit. The Queen needs people she can trust and rely on – que her plan for the Magnificent Seven – and there is evidently no room for part-timers.
Will life return to normal in June? We'll just have to wait
Like many others, I am extremely sceptical about Boris Johnson's roadmap out of lockdown.
It's great to think that by June 21 life could be back to normal, with nightclubs open, legal restrictions lifted and large gatherings permitted.
However, personally, I think it's a little too early to start planning how many friends you're going to meet and which nightclub you will be attending at the end of June.
I would have liked to think of myself as optimistic, a person who always views a glass as half-full. However after being repeatedly let down and having my hopes dampened for the past six months, it is hard to see that life will return to normal. All we can do is follow the rules…
It's great about schools, but teachers must be vaccinated
I think for all those parents who have been juggling home-schooling with their own work and family life breathed a huge sigh of relief when it was announced all schools would be returning on March 8.
However, for teachers who may not have had their first dose of the vaccination, they may be feeling rather uneasy about the prospect of hundreds of students descending on schools.
Hopefully with the vaccine roll-out continuing to make an impact, the government will ensure teachers are next in line.
Now masks are being required in schools for a short period of time, I hope this protects them and the students from transmitting the virus further.