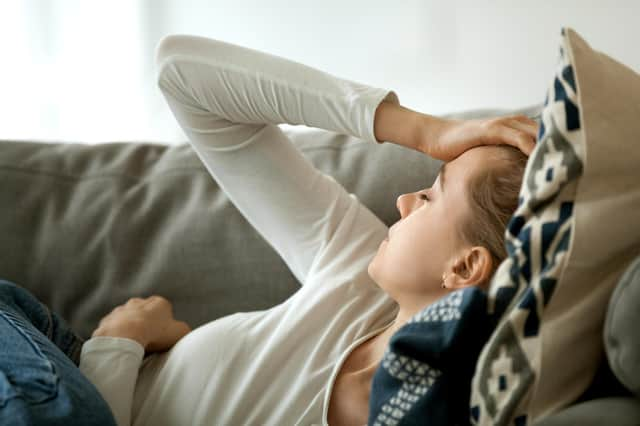 Fiona Caine advises a woman who is exhausted with life. Picture: iStock/PA.
Question: My fiancé went into hospital for what we thought was just a check-up. They decided he needed to be admitted and it looks as if he's not going to be home for about six weeks.
I have two kids at home who we were trying to homeschool, but I certainly don't feel like doing this without my fiancé.
I'm barely hanging in there. Don't get me wrong, much as I love my kids, there are days when they are so awful, I feel I could just walk away forever. I want 'me' back, but when will that ever happen?
Answer: Too many people try and soldier on without seeking support until they break.If things become overwhelming, do please call on the Samaritans for help (116 123) – there will always be someone there you can talk to, without any judgement.
Talk to your friends and family. It will help with the loneliness you're feeling, especially if you can use video calling of some kind – it really helps to see a friendly face.
MY WIFE CHEATED ON ME AND NOW WANTS ME BACK
Question: During lockdown, I found out that my wife had been having an affair. Because I was at home all the time, she couldn't meet up with her lover. She became very moody and eventually admitted to what had been happening. We had a nasty confrontation, which ended in me having to move out, even though she was the one at fault.
However, last week my wife floored me by asking me to come back. Apparently, the affair is over. Now I don't know what to do. If she doesn't love me, what sort of life will I have with her?
Answer: A I get the sense that your marriage still holds some appeal for you? Please do think carefully and be honest with yourself. At the end of the day, only you know how you really feel.
Living together after you've lost trust is going to be difficult, and if you're going to try to get this marriage to work again, you're probably going to need help. Suggest to your wife that you'll come back only if she's prepared to work at it too, by talking to a Relate counsellor (relate.org.uk).