I've become a real lockdown porker | Rick Jackson
Some people went shopping, some went to the pub, others enjoyed a full English.
Friday, 16th April 2021, 6:20 pm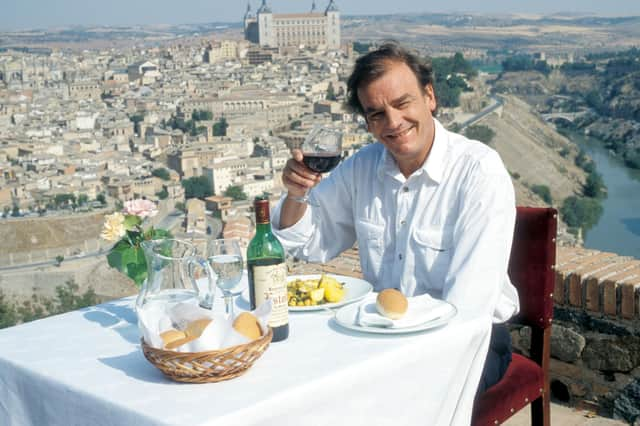 Keith Floyd in a picture taken for the 1992 TV series Floyd on Spain.
Me? I went to the gym on the first day of more lockdown easing.
Please, don't for one minute think I'm a gym bunny as I'm nothing of the sort.
This lockdown has been really tough on me and I've put on more than a stone and basically given up on exercise.
As you might recall, I go to an independent, small-group, personal training gym at Farlington. It is not a brand, it is not open 24 hours a day and it is not full of posers.
Before I started going there I didn't know my way around a gym and certainly didn't realise the importance of things like form and process.
I would watch other people, have a go on a few of the machines but I never dares enter the free weights section where all the young bucks were, checking out their reflections.
I love the fact there are no mirrors, just the right equipment and excellent, encouraging coaches who take you through each session, helping and improving you as you go.
My gym had moved everything online during lockdown.
I could either watch a plethora of workouts or join them for a live Zoom session.
But sadly my self-discipline went out of the window and by the end of Easter I was sick of chocolate, red wine and Jack Daniels and really ready for a new challenge.
The first session was hard. I was really nervous about it and, I'll be honest, I couldn't finish the last set of activities. I was spent!
But I know with the programme I'm on, slowly but surely my strength and fitness will improve. Now I just need to sort out the other thing. Food
Being the cook at home, I'm a cross between Keith Floyd on the red wine and Jamie Oliver splashing on generous glugs of olive oil. No wonder I've porked out.
So my wife Sarah, who is still a size 10, has taken over the cooking and the food shop. I will now eat what she eats.
Surely now, nothing can stop my plan of slimming down to a size 10 myself by the summer!
This would be a better place with more like Prince Philip
I've always admired Prince Philip. He had a tough childhood but never used that as an excuse, he just got on with it.
He could have gone a long way career-wise but he gave it up for the person he fell in love with – Meghan Markle take note, then found his own way at consort.
He helped many young people with the Duke of Edinburgh's Award and was a forward-thinking person who helped develop our modern royal family.
Yes, you could say he was a bit acerbic and had a habit of putting his foot in it, but that's what I really liked about him, his steadfast, strong character.
If more of us were like him, this country would be a better place I'm sure.
Life has driven us down from quality hi-fi to crackly lo-fi
Where did it all go wrong? From Bose speakers with the tweeters nestled in the top corners of the room and the bass bin behind the TV, to a beautiful separates system, each component by a different manufacturer, married together personally to achieve the perfect sound for my ears.
How I loved my B&W DM610 speakers. They've been in the loft for 20 years. I have no space so we listen to music on an Amazon Alexa in mono. Sometimes we even listen on the iPhone and I'm sure Radio Luxembourg on a transistor sounded better. Fewer wires, but have we progressed? To me, nothing sounds better than an Ortofon OM Pro cartridge on some freshly- cleaned vinyl. Time to put the anorak away.​​​​​​​​​​​​​​​​​​​​​​​​​​​​
A message from the editor, Mark Waldron.