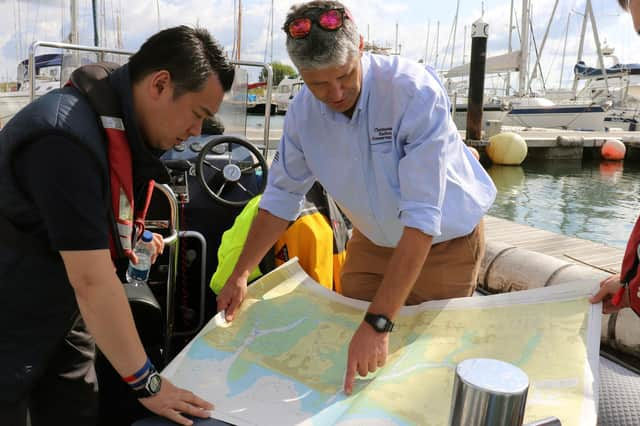 Alan discusses coastal issues on Hayling Island with Chichester Harbour Master Richard Craven (picture from before Covid).
That's why I've been keeping up the pressure on Southern Water to reduce stormwater discharges into Langstone and Chichester Harbours.
Stormwater releases are designed to prevent homes and properties from flooding during periods of heavy rainfall when the capacity of the system can be exceeded. However, a combination of climate change bringing significantly more periods of intense rainfall, alongside more surface water entering into combined sewer systems, has meant increasing use of these overflows, especially during the winter months.
I've been campaigning on this issue for several years, and there's positive news to report. The government's Storm Overflows Taskforce – made up of Defra, the Environment Agency, Ofwat, Consumer Council for Water, Blueprint for Water and Water UK – has set a long-term goal of eliminating discharges from storm overflows.
Recently, I met with Southern Water CEO, Ian McAulay, to put pressure on the company to meet these new government targets to improve water quality. While the infrastructure cost to eliminate stormwater discharges would be high, we spoke about practical solutions that could make a difference. For instance, making homes more wastewater efficient.
Southern Water also confirmed it will publish a plan setting out how it will meet the government's long-term target.
But the goal of eliminating stormwater discharges is one that will require wider collaboration which is why I will be expanding my work on this issue by launching a new regional forum. This will bring together other MPs, councils and community groups from across our region to work with Southern Water to improve local water quality.
This new forum will build on the work already achieved by my Hayling Island Environment Forum over the last two years, such as getting Southern Water to improve its Beachbuoy notification system.
Don't forget, if you know of somebody that has helped with the vaccination effort you can nominate them for one of my coronavirus Community Hero Awards. Last week we had the fantastic news that one in three adults in the Havant constituency have now received the first dose of the Coronavirus vaccine.
So if you know anyone that has been volunteering at a vaccination centre or has been helping with any other aspect of the Coronavirus response visit alanmak.org.uk/HeroAwards to nominate now.
I hope that everyone stays safe and I'll continue to provide regular updates to my email newsletter subscribers. If you wish to subscribe for updates, visit alanmak.org.uk/newsletter.