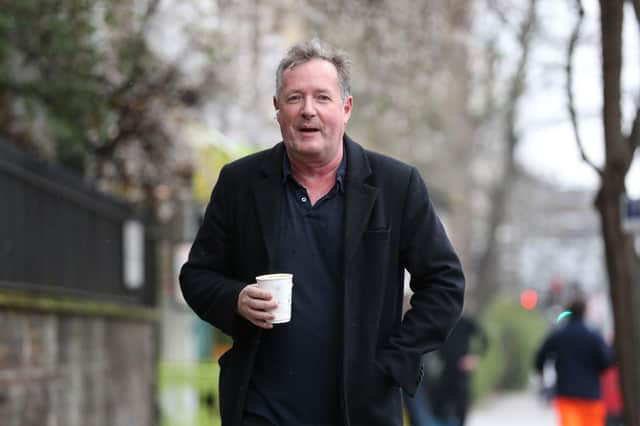 Piers Morgan returns to his home in Kensington, central London, the morning after it was announced by broadcaster ITV that he was leaving as a host of Good Morning Britain. Picture date: Wednesday March 10, 2021. PA Photo. The presenter stormed off the set of the news programme on Tuesday following a heated discussion with his colleague, Alex Beresford, about the Duke and Duchess of Sussex's TV interview with Oprah Winfrey. See PA story SHOWBIZ Morgan. Photo credit should read: Jonathan Brady/PA Wire
I don't know what was bigger news really – Meghan Markle and Prince Harry's tell-all interview or the fact said interview was the demise of one of the world's biggest presenters.
I mean naturally of course it's the former, but both were extremely scandalous and now are kind of synonymous with each other.
I don't know how to sum up what I think about it all given that I only have a certain word count in this column, but my gosh did Meghan and Harry's interview cause waves, especially with our very own Good Morning Britain's lead anchor, Piers Morgan He is one of the most controversial and yet also respected presenting and journalistic talents this nation has produced.
Piers' reporting during the pandemic and holding the government accountable for their actions has genuinely been, for me, one of the most important and respected displays of news journalism that we've seen in the press for some time.
You don't have to like him or agree with him of course, but he generally is respected by most for holding those he deems to be 'question dodgers' accountable.
Sometimes mornings were made better by watching Piers and Susanna.
Now, did he go too far on the back of Meghan and Harry's interview with Oprah? Yes, probably.
Should he have been more careful and less judgemental in his reporting? Absolutely.
Was I shocked like the rest of the nation to watch as he stormed off Tuesday's show when his colleague, Alex Beresford, challenged his opinions telling him as a mixed-race man he found Pier's treatment of Meghan uncomfortable? I've never so desperately tried to entertain and keep Harley quiet at that time in the morning as I did when I watched the debate unfold.
It was excellent television because it was a raw and genuine debate between two people who so passionately believed in what they were saying. It sparked a much needed and wider conversation that we should all be having.
No one can comment on someone else's mental state
I agree with some of what Piers Morgan said about Meghan and Harry's interview, not least about the awful timing of it given Prince Philip's state.
Whether they intended to or not, it has put the monarchy and the Queen in an awful light.
I don't agree at all with Piers Morgan's comments that he didn't believe Meghan had felt suicidal during her time in the UK living under the constraints of the monarchy – it really wasn't his place to make that judgement.
It was enough to spark over 41,000 complaints from UK viewers, including Meghan Markle herself who reportedly complained to ITV about his reporting of her interview.
It proves money and fame cannot solve mental health
We have come so far in combating the stigma surrounding mental health in the UK.
While we have a long way to go, we must acknowledge that mental health is not the taboo subject it once was.
I guess for some, it's hard to see how someone like Meghan – who is part of one of the most powerful and influential families in the world, a former celebrity and actress – can have such troubling mental health problems.
But mental health comes in all shapes and sizes and it really isn't anyone else's right to judge.
Pier's dismissal of this issue was unfortunately the downfall to what has been an incredible career on British TV.