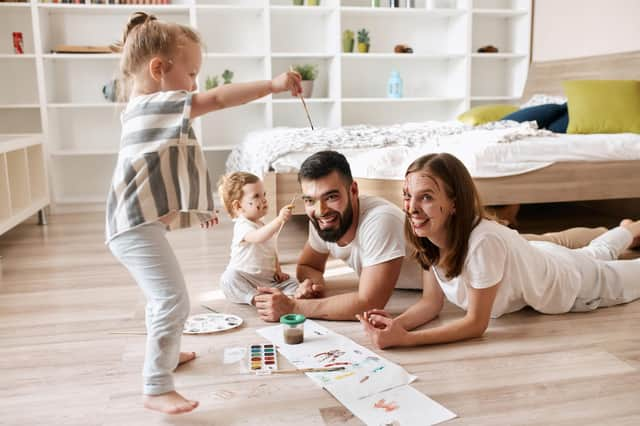 Make sure you keep yourselves amused... and then look after the kids.
As I'm a key worker, both kids could go to school but we're keeping them at home so we can all stay safe.
We've devised a timetable of lessons and activities. We do maths in the morning, simple times tables and multiplications. Then it's craft time, Play-Doh and colouring. Lunch, then it's time for the daily run before reading in the afternoon and some role play. Then it's cartoon or tablet time before tea. So far it's working well and gives the day structure.
We also have a timetable for the kids...​​​​​​​
Cat's ninth life saved thanks to a Sliding Doors moment
I thought I'd change the subject that is dominating the world right now.
Instead I'm going to tell you what happened when I made a last-minute decision to turn right instead of left.
Right at the beginning of my drive to work, I always turn left, but on the morning in question, I decided to turn right.
Half a mile later I was on the main road to Lee-on-the-Solent and I saw something in the middle of the westbound carriageway.
Was it a cat? I so hoped not, I so hoped it was a black bin bag.
As I got closer, my lights shone on this mysterious mass. Yes, it was a cat.
The cat was positioned so that it would go between my wheels and just before I closed my eyes, I was sure I saw the cat look up.
Surely not, it couldn't still be alive, could it?
I had to check, I couldn't just leave it there, so at Lee-on-the-Solent I turned back hoping I wasn't too late.
I saw other cars and the number nine bus drive over it.
Yes, the cat was still there, motionless. Was it too late?
I stopped in front and put my hazard lights on to protect the cat.
I got out of my car. The cat was still alive!
There was a lot of blood and it's tongue was hanging out. What on earth should I do?
Put the cat out of its misery? I couldn't.
I had a white towel in the car and wrapped the cat up, placing it safely on the grass verge, called 101 and the police were very helpful.
I put a post on a Gosport Facebook page.
I couldn't think about anything else for the rest of the day. On my drive home, the cat had gone.
It turns out someone picked the cat up, took it to work, then on to the vet. The owner of the cat was then contacted.
A dazed and stitched Cassie is quieter but recovering at home, purring nicely.
I'm so glad I decided to turn round that morning and so thankful to the woman who took her to the vet.
Ruby's in the dog house as the devil in her takes control
Our dog Ruby is a typical Jack Russell. She's fun, playful, affectionate, but also has a devil side.
She can be a liability on walks. One minute she's submissive, rolling on her back to one dog, then growling at another and chasing it around the park.
Earlier this week, after 11 years of behaving like a minx, she got her just desserts. She took a disliking to a border terrier after being lovely to every other dog. The other terrier was having none of it and they fought like they were in a Hanna-Barbera cartoon! Ruby lost. We needed to take her to the vet. She's well and truly in the dog house – she had a fight, lost, and needed three staples costing £180. She now stays on the lead.