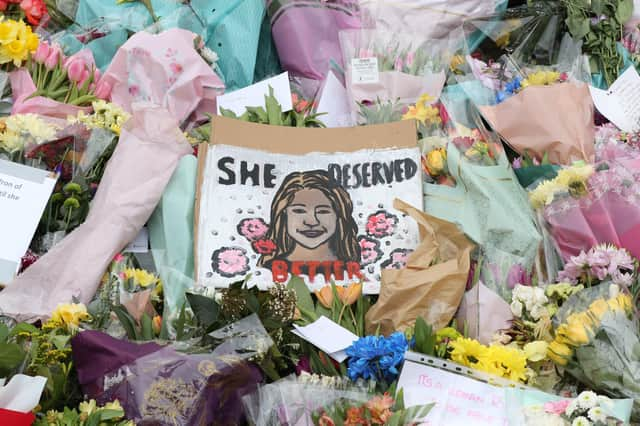 Floral tributes left at the bandstand in Clapham Common, London, for murdered Sarah Everard. Picture date: Tuesday March 16, 2021. Picture: Jonathan Brady/PA Wire
Indeed, the everyday harassment that many endure is anathema to a society built upon tolerance and mutual respect, and abusive behaviour must be met with the full force of the law.
To deliver greater protections for women and girls, this government is overhauling our justice system to give the police and courts the powers they need to keep our streets safe, and in turn eradicate a fear of crime that restricts so many.
It is right that the most serious offenders, including those who have committed violent and sexual offences, should spend more time in prison to match the severity of their crimes. The Police Crime, Sentencing and Courts Bill realises this ambition, by ending the halfway release of offenders sentenced to between four and seven years for serious crimes including rape, manslaughter and grievous bodily harm with intent.
At its core, this Bill – which implements a wide-range of reforms – protects the victims of abuse, and will strengthen public confidence in our criminal justice system. Alongside this legislation, the government has already recruited over 6,600 of the additional 20,000 police officers, and every single one is contributing towards keeping us safe.
As part of a wider strategy to be brought forward later this year, the Home Office is now collecting views from those with lived experiences of, or views on, crimes considered as violence against women and girls.
Over recent days, many women have shared their stories online and these have been both powerful and concerning. I would ask Fareham residents to take a moment and complete the Home Office's survey, as we seek to banish abominable stories of abuse to the past. The survey can be found here.
Ultimately, every woman in this country should feel safe to walk on our streets without fear of intimidation, harassment or violence.
I am truly proud that the government is now delivering on its manifesto promise to fight on behalf of women and girls across the country.