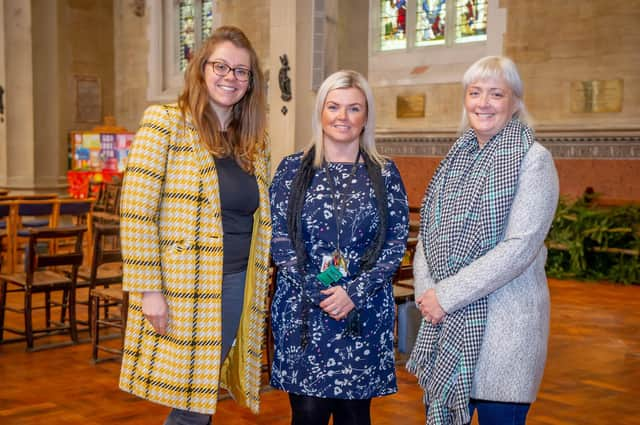 Last year's Launch of The News Comfort and Joy campaign at St Mary's Church, Fratton Rd, Portsmouth. Pictured: Sarah Collett, Claire Haque and Georgina Joyce of Two Saints. Picture: Habibur Rahman
Two Saints, which offers homelessness services across the area, aims to make Christmas as special as it can for those using the services.
A huge boost will come in the form of vouchers from the Comfort and Joy campaign, backed by The News, where members of the public donate a £5 supermarket gift voucher to be shared out between 10 charities including Two Saints.
Katherine Gladders, contracts and performance manager, said: 'Christmas is a difficult time of year for many people and for those who are homeless and without support networks of friends and families, this time of year can be particularly difficult.
Comfort and Joy Christmas campaign logo 2020
'The campaign just gives our clients a bit more hope and comfort that they have not been forgotten and that they are in the minds of our local communities.'
Two Saints' aim is to help its clients build a brighter future and move towards independent living while being accommodated in adult hostels like Hope House, young people's hostels or supported accommodation for adults with mental health issues.
Katherine added: 'The vouchers give our clients an opportunity to buy something they couldn't otherwise afford, for themselves or if they do have loved ones or friends, to buy something to give to someone else.'
Challenges have faced the service this year due to the Covid-19 pandemic, but there has been no outbreak of cases in any of Two Saints' accommodation services.
Alongside Portsmouth City Council and the Society of St James, Two Saints helped to set up temporary hotel provision to support the government request to house all rough sleepers.
Adaptations to overcome the restrictions have meant Two Saints has been able to keep supporting its clients while keeping them safe.
Katherine said: 'We have had to stop visitors entering our services unless they are other professionals, which has increased levels of isolation for some of our clients.
'We have had to close our communal areas in service too, to enable us to manage infection control and increase cleaning in services.'
She added: 'We have been lucky not to have had any Covid outbreak within any of our accommodation services and hope we can continue this throughout the winter months.'
HOW TO HELP
To get involved with the voucher scheme, simply buy a Christmas card and write a message, without including your name and address, and purchase a gift voucher of £5 to put inside the card.
Do not seal the envelope, and place the Christmas card into one of the festive postboxes in the area which can be found at Tesco stores in Havant, Fratton, Gosport and Portsmouth's Crasswell Street.
Alternatively, send a gift card, cash or cheque payable to St Mary's Church in the post to St Mary's Vicarage, Fratton Road, Portsmouth, PO1 5PA or hand in at St Mary's Church any morning between 9am and midday.
The deadline for receiving donations on December 18, after which time the donations will be distributed to the good causes.
A message from the Editor, Mark Waldron
Our trial offer starts at just £2 a month for the first two months.