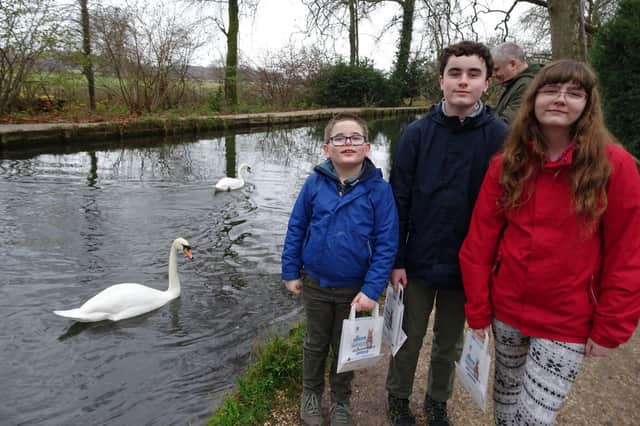 Theodore (8), Quinton (13), and Theandra (11), during their Family John Muir Award
After taking part in more than 100 hours of nature-based activities over the past year, the Seal family has now been presented with two John Muir Family Awards, which encourage families to spend time together outdoors.
Mum Samantha and dad Nigel have joined their children Quinton, 13, Theandra, 11, and Theodore, eight, in activities such as creating a wildlife-friendly garden, fungi hunting, night-time wildlife watching, bat surveying, pond-dipping, and woodland crafts.
Samantha said: 'We try to immerse them in anything we can do in the natural world, and they love to collect things like pine cones which they make into decorations.
The Seal children doing a craft activity together
'We've made bird feeders, a hedgehog house, we do stargazing, use telescopes, do astrophotography.
Samantha is Nigel's carer, as well as full time homeschool educator to their three children.
The family started taking part in nature-based activities before the pandemic, and carried on with their usual outside activities when they heard about the John Muir awards.
They have completed summer and winter challenges, and are finding places to put their new awards.
A robin recorded by the Seal family
Samantha said: 'We love going out and being in nature and enjoying the countryside.
'We look at it like a safari, and take lots of photos so that we have a record of what we've found.
'The children love going out and experiencing things.'
The family have also enjoyed watching online wildlife and ecological lectures from places such as the Natural History Museum and the Wildlife Trust.
Samantha added: 'We've found some wonderful nature spots near where we live in places like Clanfield and Leigh Park and we particularly enjoyed doing the bat surveys.'
The family has been able to collect information to give to the national Bat Conservation Trust to help the organisation with its research.
Samantha said: 'It's also been so lovely going on country walks and feeling more connected with the landscape and all the little things going on around you.
'We're so lucky to have the national park and all its flora and fauna on our doorstep.'
A message from the Editor, Mark Waldron