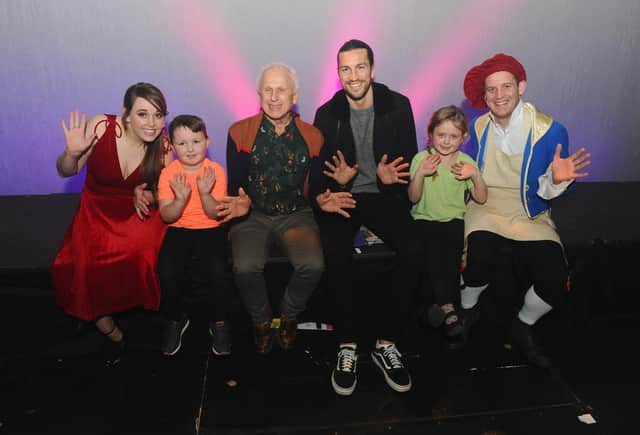 Wayne Sleep, third left, and Portsmouth FC player Christian Burgess, third right, with some of Hayling Musical Society, from left, Kate Backaller, 30, George Porter, five, Phoebe Perry , six, and Paul Goldthorpe, 30 Picture: Sarah Standing (200220-8283)
The Hayling Musical Society, which was founded more than 60 years ago, kicked off three nights of performances from hit musicals at Hayling Island Community Centre, Station Road, on Thursday.
More than 50 cast members, ranging in ages from five to 70, gave the island a taste of Les Miserables, Mary Poppins, and The Greatest Showman.
Wayne Sleep, former ballet dancer and a contestant on the second series of I'm A Celebrity... Get Me Out Of Here in 2003, attended the show as a patron of the society.
Wayne Sleep, centre, with Portsmouth FC player Christian Burgess, right and the members of Hayling Musical Society. Picture: Sarah Standing (200220-8269)
He said: 'There's fantastic talent here.'
The dancing legend had words of encouragement for budding performers across the area, telling them to never think 'the bright lights' of show business are too far away.
He said: 'I grew up in Plymouth when there was nothing there, and then I moved to Hartlepool – which was even quieter.
'If you want it, you have to go out there and do something about it.
President of Hayling Musical Society Wayne Sleep Picture: Sarah Standing (200220-5917)
'Just because the bright lights seem too bright or too far away – just get out there and face it.
'You might try things you never thought you would be good at.'
Wayne became involved in the society through his friendship with island resident Mark Coates, whose children performed in the show.
Mark said: 'We have had past members of the Hayling Island Music Society go on to perform in shows like Les Miserables in London.'
The dad of performers Livvy, 13, and Joe, 10, said he was 'very proud' of their parts.
He said: 'There were battalions of proud parents and grandparents walking out with Cheshire cat grins a mile wide.
'I know director Zoe Fisher was delighted with the standing ovation on the opening night – they've all worked their socks off.'
Also in attendance was Pompey defender Christian Burgess, who said he was 'looking forward' to seeing more shows from the society.
The show – titled A Song In Time – has some tickets remaining for its Saturday performance, starting at 7.30pm.