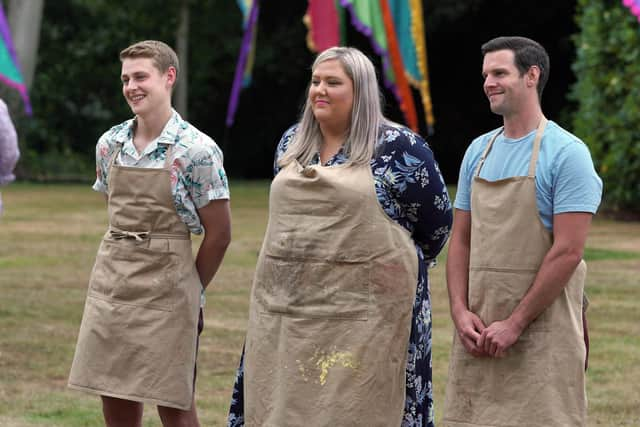 The finalists of the Great British Bake Off, Peter, Laura and Dave.
Although he didn't take home the trophy, Dave Friday from Waterlooville has a lot to be proud of after his journey in the Great British Bake Off ended last night.
The 30-year-old security guard came runner up in the Channel 4 show, alongside Laura Adlington, after Peter Sawkins just edged the win – a decision which judge Paul said was the closest it had ever been.
Dave said: 'I never imagined that I would be picked for the show as I hadn't had a lot of experience and never really felt that I was up to the standard of previous contestants of the show.
'But what I did have was great passion and interest with baking – a real fascination with what I could do with a few basic ingredients to producing bakes that I got to see people enjoy – that feeling alone was motivation enough for me to carry on and then submit an application.'
In the final, Dave made caramel latte custard slices for the signature bake and came top in the technical for his walnut whirls.
For the showstopper the judges wanted to see a dessert tower that represented the bakers' journeys in the tent.
Dave decided to go back to his worst bakes and produced a Fraisier cake adding on chocolate babkas, craquelin choux pastry and brownies.
Dave added: 'My baking journey has been completely self taught and all within a short space of time.
'To have the opportunity to bake for Paul and Prue is an absolute privilege.'
Many fans took to social media after the show ended, to congratulate Dave and partner Stacey on their new son Ronnie, who was born on October 11.
He told The News previously his son had been delivered by a doctor who was big fan of Bake Off.
On twitter Alice Kiernan said: 'Alright but Dave's the real winner for having a baby called Ronnie.'
Another fan added: 'I mean I'm happy for peter but if we were looking at all three rounds, including the technical where Dave came first, then he should've been the winner!'