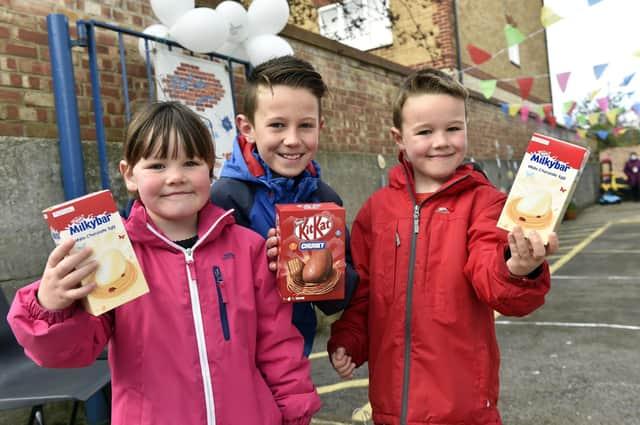 From left, Carmen Taylor, four, Lincoln Taylor, 10, and Ellis Taylor, six with their Easter eggs. Picture: Allan Hutchings (030421-3022)
Eastney Evangelical Church in Methuen Road was decked out with colourful bunting and balloons as families and children came to receive goody bags, brimming over with Easter eggs, fruit, crisps, Easter booklets and other treats as the church celebrated Easter.
Pastor Chris Thomas said: 'We think we all need a bit of cheering up.
'We've had some kind gifts from Tesco and Co-op, who have provided some goodies and Easter eggs for anyone who cares to come by.
Charis Thomas, right, and members of Eastney Evangelical Church give visiting families Easter egg presents Picture: Allan Hutchings (030421-3013)
'We just hope that it will be a positive event for people, knowing that there is someone out there that cares for them and they can reach out to.'
The church handed out more than 30 bags full of Easter treats to families.
The Easter celebration comes as the church continues to support those who have lost loved ones to Covid-19 during the previous 12 months.
Children with their Easter eggs Picture: Allan Hutchings (030421-3036)
Chris said: 'The pandemic has touched everyone, we've had our fair share of sadness and funerals to take and goodbyes to say. But God has been good to us.
'We have been able to keep open whenever its been legal and look for ways to support people when we get a phone call asking for support.'