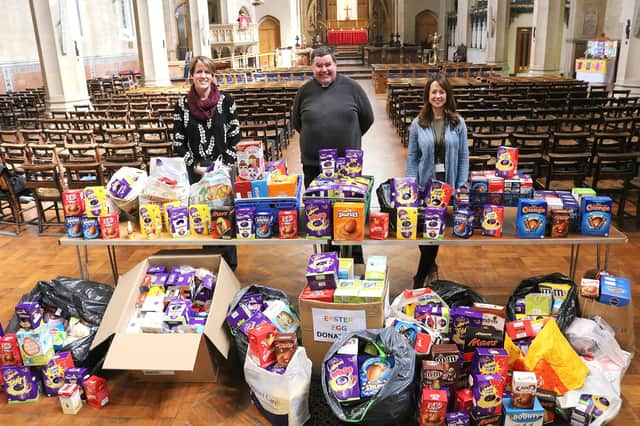 Easter eggs at St Mary's Church, Fratton in 2019. Vicar Bob White is pictured with (left) Donna Burney from the Roberts Centre and Charlotte Ferguson, from Stop Domestic Abuse
Simple, small donations to bring joy to those in need are being welcomed by a community drive set up by St Mary's Church in Fratton.
Individuals and families receiving support from Stop Domestic Abuse and the Roberts Centre will benefit from community generosity as people share signs of hope and new life.
In previous years, more than 700 Easter eggs have been collected through St Mary's campaigns.
This year, donations of Easter eggs, seeds, gardening tools or flower pots will bring some hope to those who might be finding things difficult.
Canon Bob White, vicar of St Mary's Church said: 'As we hear news of the roadmap and signs of spring and hope begin to appear around us we are inviting people to share some of that hope and joy with others. In particular with those families who are supported by Stop Domestic Abuse and Roberts Centre.
'Throughout the last year the generosity and sense of being part of a caring community has been shown in so many ways, not least the Harvest and Christmas campaigns – and so we invite you once more to support us.'
Claire Lambon, chief executive of Stop Domestic Abuse, said: 'Stop Domestic Abuse is delighted to receive donations from St Mary's annual Easter egg appeal again this year.
'Knowing that the local community is thinking about them means so much to the families we support, and for those struggling financially the gift of Easter eggs makes a huge difference.
'On behalf of Stop Domestic Abuse I would like to thank everyone who donates to this campaign, your support is really appreciated by us as a local charity and by the women, children, young people and men affected by domestic abuse that we support.'
Donations of Easter eggs, seed packets and gardening materials can be dropped to St Mary's Church any day between 9am and midday.
Alternatively, you can send cash or a cheque payable to St Mary's Church via post to St Mary's Vicarage, Fratton Road, Portsmouth, PO1 5PA.
A message from the Editor, Mark Waldron
Our trial offer starts at just £2 a month for the first two months.