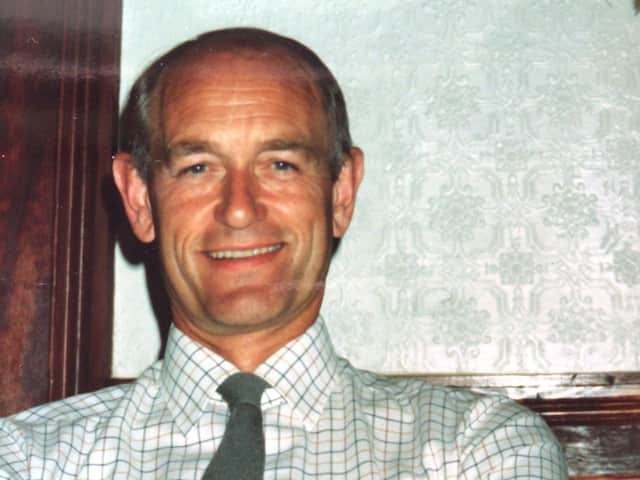 Aviator and former Concorde pilot, John David Butterly, will be much missed by family and friends.
Despite his advancing years, much loved pilot, John David Butterly, 82, recently entered a syndicate to purchase the historic aircraft and on October 11 was co-flying it between Lee-on-Solent and Frensham in Surrey.
John, affectionately known as Stack to his friends, was due to take over the controls for landing but his co-pilot realised something was wrong when there was no response. The co-pilot was able to land the aircraft but unfortunately John had died.
John's brother-in-law, Bill Gibbs, 83, who had known him since childhood, said: 'If John was going to go then it was fitting it was behind the controls of one of the planes he loved to fly. Aviation has lost one of its truly colourful characters.
Captain John David Butterly (right) getting ready to take the controls of Concorde.
'He will be greatly missed by everyone who knew him.'
John's wife, Theresa, added: 'After his retirement he continued to fly. Flying was his life.'
John grew up in North End and attended Portsmouth Grammar School between 1946 and 1956 before taking up a scholarship with the RAF.
John David Butterly doing what he loved most - taking the controls of an aircraft and taking to the sky.
Bill, who also attended the school, recalled one of his earliest memories of John.
'When John was about 17 he went up in a Tiger Moth aircraft with a friend. There was a problem with the plane and he ended up ditching it in Langstone Harbour. John was worried the plane would sink only to find when he jumped out they had actually landed in a few inches of water and mainly mud.'
After a successful eight-year career as an RAF flight lieutenant, John branched out into commercial aviation after joining British and European Airways, later to become British Airways.
Theresa said: 'While with BA John flew a range of planes including 747s before becoming a Concorde pilot in 1985 which he flew until he retired in 1993.'
One of John's roles was to fly the iconic aircraft on a 'round the bay experience' which offered tourists the chance to fly faster than the speed of sound on a trip to the Bay of Biscay.
Bill, who served as a commander in the Royal Navy, recalled taking part in one such trip.
'We got the chance to fly with John at 52,000 feet and at Mach 2.2 – more than twice the speed of sound. John was such a colourful character – always full of jokes – but whenever you flew with him he was a true professional,' said Bill.
Since hearing of John's sad passing many of his former aviation colleagues have contacted his family to pay their own tributes.
John's infectious personality and skill as a pilot are perhaps best summed up by his former co-pilot, who wished to remain anonymous, who commented: 'I shall remember John, behind all the jokes and banter, as one of the most friendly, supportive and kind people I've ever had the pleasure to meet.
'As a young awestruck first officer sat beside a Concorde captain, he put me at ease immediately and encouraged, guided and taught.
'I know every pilot would agree that when you got your roster and you saw a day with Captain J Butterly, you knew you were going to have a bloody good day out.'
While flying was John's first love he also had a passion for jazz music and could often be seen on a Sunday evening at the Concorde Club in Eastleigh where he would enjoy renditions from some of his favourite artists such as Chris Barber.
Bill said: 'He was a very kind and generous man and would always be the first at the bar to buy a round.'
John recently returned to Portsmouth Grammar School for a reunion.
Event organiser and the school's development director, Melanie Bushell, said: 'John was a real character who stayed in touch with the school and his school friends for his whole life. He was a born pilot and died doing what he loved most.'
As well as wife Theresa, John will also be much missed by his three children, Kate, Neil and Phil, and four grandchildren.
A message from the Editor, Mark Waldron
Thank you for reading this story. The dramatic events of 2020 are having a major impact on our advertisers and thus our revenues.
Every subscription helps us continue providing trusted, local journalism and campaign on your behalf for our city.