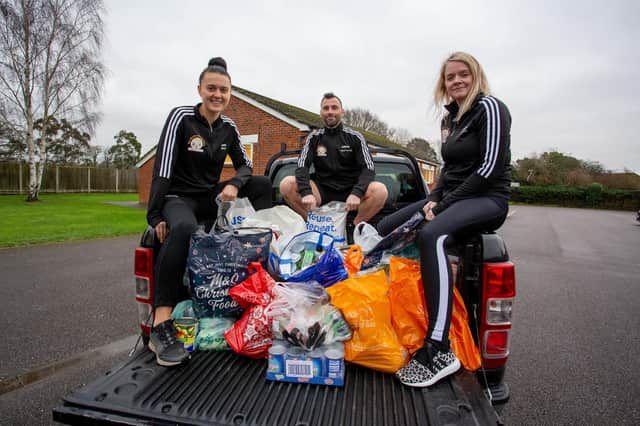 Liam Walsh and his fitness group coaches, Jade Bradley and Becki Gill on his pick-up truck at Catisfield Hall, Fareham. Picture: Habibur Rahman
Members of The Health & Fitness Barn, run by Liam Walsh, put down their kettle bells, paused their planks and stopped their star jumps to spread some Christmas cheer to Fareham.
Personal trainer and fitness coach Liam, from Knowle, has been busy this festive period not only keeping his clients fit but also finding ways to ensure his members from Gosport, which is in tier four, can still exercise.
The group, which meets at Catisfield Memorial Hall in Fareham or the Great Barn in Titchfield, which are both in tier two, held a month-long donation drive in aid of the Fareham and Gosport Basics Bank.
Liam Walsh and his fitness group members with his pick-up truck at Catisfield Hall, Fareham. Picture: Habibur Rahman
The group was inspired to help after hearing about the work the foodbank does to collect and distribute food to people going through a short-term crisis.
Liam said he was amazed at the generosity of his members, who donated scores of bags of produce, during such challenging times.
Group members even enlisted help from their families, friends and colleagues to collect the huge number of donations.
Liam said: 'I am so impressed with the way our members have pulled together this Christmas to help support our local community.
'With the current climate as it is it is even more important now than ever before to extend a hand to help those less fortunate than ourselves.
'We were extremely proud to be able to take such a large donation to Fareham foodbank and we hope that it makes a difference.'
Phil Rutt, who runs the foodbank, said they were extremely grateful for the donations.
He said the food bank had had 400 referrals in the past eight weeks and that it had fed more than 1,000 people.
Phil said: 'Donations like this are so important to us. It is the generosity of the community that enables us to be so generous to the people who need it most. It really does make a difference.'
Founded by Liam in June after the first lockdown, The Health & Fitness Barn has 105 members all committed to improving their fitness levels.
The group offers one-to-one coaching sessions, open gyms, group fitness classes, dietary advice, online support and more.
As 20 per cent of Liam's members live in tier four areas, he is also putting together a package of online classes and support sessions to ensure his members stay fit throughout this latest round of restrictions.
For more information, or to join, call membership manager Jane Taylor on 07306 092650.
A message from the Editor, Mark Waldron
The News is more reliant than ever on you taking out a digital subscription to support our journalism.