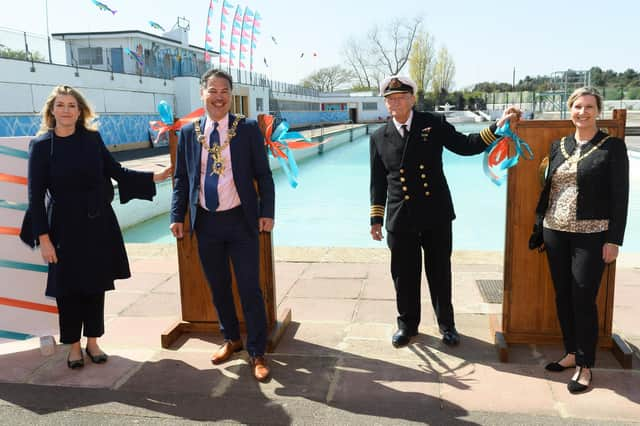 Pictured: Penny Mourdant MP, Lord Mayor Cllr Rob Wood, Barry Swindells, a former captain of the tall-ship Malcolm Miller, and Lady Mayoress Debbie Wood. Picture: Keith Woodland (240421-32)
Hilsea Lido, off London Road, has suffered one of its most challenging years since it reopened in 2014, with the Covid-19 pandemic keeping the site closed for most of 2020 and 2021.
Now it is looking to reopen for the summer season, with a ribbon cutting ceremony held to mark a drive for more volunteers and paid lifeguards.
The Lord Mayor of Portsmouth, Councillor Rob Wood, cut the ribbon on Saturday in front of two doors used on the tall-ship training vessel Malcolm Miller.
Hilsea Lido is calling for volunteers and paid lifeguards to help reopen in the site in the coming months. Picture: Keith Woodland (240421-2)
The doors have been donated to the lido after being kept in storage following the ships refurbishment in 2012, and they will be installed as part of ongoing redevelopment works.
The lido had previously bid for cash from the government's Coastal Communities Fund for an outdoor cinema and is continuing to look for funding for the project.
Sabrina Richards, chair of the Hilsea Lido Pool for the People Trust, which runs the pool, said the site was continuing to look for 'big' grants to meet the teams ambitious vision, which includes a year-round itinerary of events.
Sabrina said: 'It all depends what resources we can secure. The more we get, the quicker things can develop.
'We are trying to build a long term future for this place.
'The whole time we have had people contacting us about when they can come back, particularly the cold water swimmers who were hoping we'd be open for the early season.
'We're really pleased that we have life guards coming back from the last season - that's really lovely.'
The trust was formed after the council abandoned plans for refurbishment in 2006.
Now the site is 'really turning a corner' even after a year closed to the public, according to Portsmouth North MP Penny Mordaunt who attended the event.
Ms Mordaunt said: 'The project is going from strength to strength. This whole area is coming into its own, and everyone on needs to rally behind the lido.
'If you have something to offer, then you can help. If you have an extra hand to lend or you're a builders merchant and have extra material, these guys can use your help.'
The MP, who starred in TV diving competition Splash!, said she is 'absolutely' looking forward to brushing up on her diving skills at the lido when it reopens.
Hilsea Lido is yet to announce a date for when visitors can return to the site.
A message from the Editor, Mark Waldron