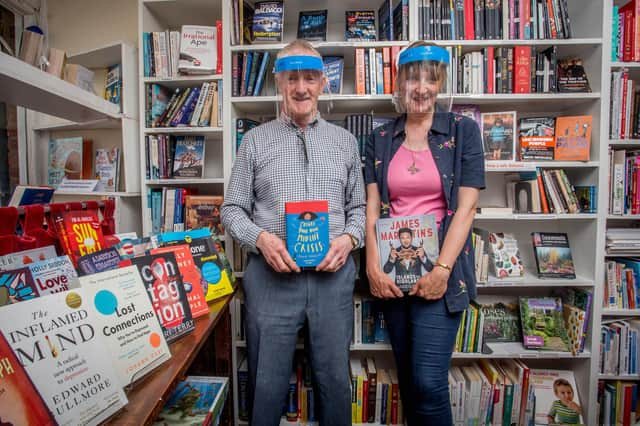 Colin and Marie Telford at their Hayling Island Book Shop. Picture: Habibur Rahman
Throughout the past few months, many have fallen back in love with reading during what was, and still is for some, a very isolating period. Now our beloved high street begins to wake from a forced hibernation, it's evident that it's not just books who are loyal – but also bookshops and their dedicated owners.
Marie Telford, co-owner of the Hayling Island Book Shop, smiles and says: 'I love meeting such varied members of our community. It's a very social job and we feel very embedded in the community.'
Before 2017, the number of independent bookshops selling new books in the UK and Ireland had declined every year since 1995, when there were 1,894. A low was reached in 2016 with only 867 bookshops keeping their doors open, but in 2018 and 2019 numbers grew to nearly 885.
Customer assistant Jasmine Woodward and owner Sarah Veal at The Book Shop, Lee-on-the-Solent. Picture: Habibur Rahman
But Colin Telford, the co-owner of The Hayling Island Bookshop with wife Marie, explains how the Covid-19 threat to bookshops cannot be underestimated. Colin, 72, who works as the shop's events manager, explains: 'It is a much bigger threat than Amazon, E-books and even car parking charges have ever posed. We managed to survive all of them but this is by far the most serious and we have no clear idea how this is going to play out.
'We're the smallest independent bookshop in the UK by floor space but one of the largest event organisers on the south coast area. We run events for 20,000 schoolchildren each year and have adult author events locally and in big theatres in southern England with celebrity book tours people such as Trevor McDonald and Lenny Henry.
'But we won't know until the autumn or Christmas period how our sector will survive so more than ever, we are asking for support.'
But bookshops are fighting back.
Mel and Phil Davies at their book shop Pigeon Books in Albert Road, Southsea. Picture: Sarah Standing (230620-483)
Pigeon Books, in Albert Road, Southsea, planned to open its freshly-painted doors in April, which was just as things started to close. Co-owner Mel Davies, who runs the reading haven with husband Phil, says it was devastating when their dream of running a bookshop was put on hold unexpectedly. Mel, 36, says: 'But it's generally been very positive and it gave us more time to work on the shop.
'As soon as lockdown started, we did deliveries. So many people have been buying lots of books. Lockdown made everyone slow down.
'With wholesalers and the pandemic, there was a bit of a chain reaction which meant orders and stock were skewed. We couldn't get hold of as much as we wanted but it's returning to normal now.'
Like Mel and Phil of Pigeon Books, Sarah Veal at The Book Shop, Lee-on-the-Solent, quickly adapted to the situation.
Owner Sarah Veal outside The Book Shop at Lee-on-the-Solent. Picture: Habibur Rahman
Sarah, who took on the 87-year-old bookshop 18 months ago, says: 'When we shut down, I initially worried about how we would survive. It took about 24 hours to process and then I realised we have just got to fight back and adapt to this new way of living.
'We have taken advice from the Booksellers Association, who has been really good. They have sent us packages with stickers for the floor to observe social distancing.'
As well as deliveries, the small but mighty bookshop – which has been a regional winner of the South East Region Independent BookShop of the Year award by The British Book Awards – launched positivity boxes for customers to send to friends and family across the world.
Sarah, 47 says: 'We were given a little bit of financial support from the government but we have used that to create our positivity boxes. They include a book, a bookmark, a hot chocolate and a chocolate bar. Our community was sending them everywhere. Not only were we doing local deliveries, but we also sent some as far as Ireland and Australia.'
A snapshot of a bookshelf at Pigeon Books, Southsea. Picture: Sarah Standing (230620-513)
As Pigeon Books, The Hayling Island Bookshop and The Book Shop, Lee, opened their doors last week they put measures in place to protect customers.
Sarah, from Lee, says: 'We're not quarantining books because all our customers have to sanitise upon entering and exiting the shop. We're only allowing three customers in at one time.
'I think if you're a big shop like Waterstones you can't monitor who is coming in. But as soon as our customers come in, they're greeted so we know who is in the shop and we make sure they sanitise. Books we have ordered from our wholesaler are left for 72 hours before being touched.
'But people are not necessarily picking up a book, reading it and putting it back. They know what they want and normally ask us to help.'
'It's not practical to quarantine every book which is touched, that would mean sometimes half my stock had to be quarantined,' adds Marie, from Hayling. 'We have automatic sanitise stations for people entering the shop and we sanitise our hands too.'
Like the butchers, greengrocers and chemists, high streets need our support more than ever. Mel says: 'It's better to invest in the local economy rather than conglomerates which take a portion of money away from our community. Through buying from our local wholesaler, I am putting money back into the economy.
Marie Telford placing a book into the shelf at The Hayling Island Book Shop. Picture: Habibur Rahman
'I think the pandemic has brought back old-fashioned times and values. It's such a wonderful way of living and there's still so much good in the world,' adds Sarah.
'It's great to hear people are falling back in love with reading.'
Get your hands on new and second-hand books
Here are a few independent bookshops – selling new and second-hand – in our region.
- New to You Books, Cosham: (023) 9232 1089.
Customer assistant Jasmine Woodward and owner Sarah Veal at The Book Shop at Lee-on-the-Solent. Picture: Habibur Rahman