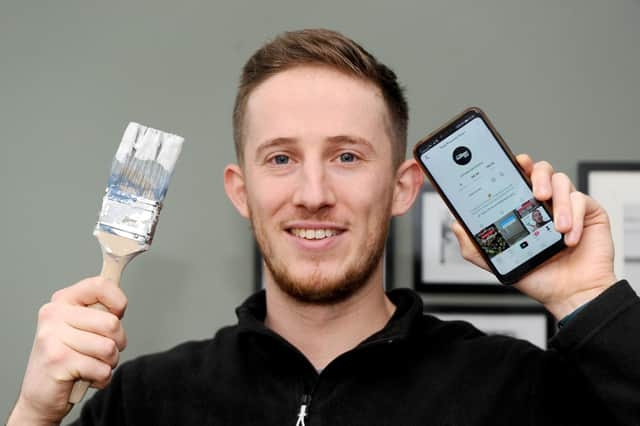 Kyle Mattison (29) from Portsmouth, launched his Instagram and Tik Tok profile called That Property Guy in August. Picture: Sarah Standing (101220-249)
And it's his interest and hours of dedicated research that enabled him to buy his first property aged 24. Now 29, Kyle is using social media to share his experience and help people of all ages start their journey up the property ladder.
Kyle, who lives in Fratton, says: 'When I was younger, I used to watch Homes Under The Hammer and always thought I would like to own a house and renovate it. I thought it was really interesting.
'I realised I wanted to get on the property ladder fairly soon and did a lot of research.'
Kyle Mattison's TikTok page.
It may not sound like a challenge but buying a property now is daunting and for many, unattainable.
For example, the average house price in the UK in 1980 was £20,268. Now, that wouldn't even be enough for a deposit on a house which now averages at £256,000 in 2020.
And with the average age of a first-time buyer being 34, Kyle getting on the property ladder young has been an inspiration to many. Therefore, it is unsurprising he has gained such a large following in a matter of months, with 69k followers and 865k likes on TikTok, as well as more than 1,000 followers on Instagram, under the name tag, That Property Guy.
Posting on his social media short videos of top tips in renovation and breaking down jargon many of us find confusing, Kyle is humbled to have such a following.
Kyle Mattison (29) from Portsmouth, launched his Instagram and TikTok profile called That Property Guy in August. Picture: Sarah Standing (101220-158)
He explains: 'I started a Tik Tok channel and Instagram in August. I still work full-time in marketing but I had a lot of friends or people that I met asking how I got into property at such a young age.
'I went to university in Portsmouth studying marketing. After I graduated, I briefly left Portsmouth for about 18 months when I went home to south London and worked to save up a deposit.
'I loved being by the sea and a lot of my friends still live here from university. I spent a lot of my formative years in the city so wanted to move back.'
Kyle bought his first two-bedroom flat in Fratton in 2016.
'I did a little bit of work to it, like painting, and increased the property's value,' he says.
'I then sold it and bought a three-bedroom house in Stamshaw which needed a lot of DIY. I now rent that one and bought a flat in Lawrence Road, Southsea, which I renovated too.
'I sold the Lawrence Road flat and am now in the process of buying two other properties.'
Kyle stresses he is no expert, however he is happy to share his experience.
He says: 'I saw another guy on YouTube doing a similar thing and I realised I had actually bought and sold more properties than him, so I thought my experience might be something people are interested in. I get quite a lot of messages about what I have done and how I got started.
'I am by no means an expert or a financial advisor but I am happy to talk about my experience. I share my experience hoping I can help some people.
'It was a huge shock when my social media accounts started gaining momentum.'
The process of buying a property is not something young people are ever taught, unless they have helpful parents guiding them. Kyle's videos range from tips on what people should look out for when viewing a house, what a good EPC rating is and even the best place to look for kitchens and bathrooms.
'It's not just young people who are interested, there are also a lot of older people who haven't been able to get on the property ladder,' says Kyle.
'What people need to realise is that although there is a risk financially, the experts – solicitors and financial advisors – spell each part out in very simple terms.
'There are pros and cons to buying and renting, you have to find what works for you.'
Kyle, who is now in the process of buying another two properties in the area, says the excitement of having a new project does not wear off. He also aims to debunk myths such as thinking you are tied down to a property once you buy.
'Buying a property is an investment. There are more ways you can get on to the property ladder than you think.
'Don't get bogged down with confusing terms, like equity and LTV, because there are people to help you make sense of it all.'
To check out Kyle's videos, type in @ThatPropertyGuy on TikTok or ThatPropertyGuyUK on Instagram and Youtube.
Kyle's hacks to buying your first home
Kyle explains his top tips of how to get on to the property ladder.
Do your research – look on Rightmove, Zoopla, Purple Bricks and other housing websites most days to find out more information about properties in the area.The more you look, the more you'll understand property prices in the area, the more likely you'll find a better deal when a cheap property comes on the market.
Consider a different location – you may have to look a bit further afield or just outside your ideal location. Compromising could enable you to afford it.
Utilise the stamp duty holiday – it's worth researching because it may mean you can save thousands of pounds when buying a property.
Spend less, save more – the quicker you save money for a deposit, the quicker you'll be moving, so be strict.
Consider a buy to let investment– if you have the money for a deposit, but are struggling with mortgage affordability, it may be worth looking at an investment in property.