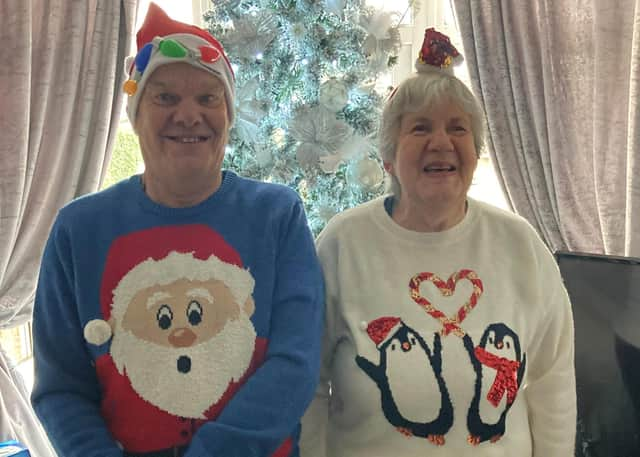 Bridget Collins and Nigel Hunter who have benefited from the Shared Lives scheme. Picture: Portsmouth City Council
The Portsmouth City Council-run Shared Lives programme provides homes for adults with physical or learning disabilities, or mental health issues.
Through the scheme they stay in the homes of their Shared Lives carers for long stays, short stays or day support, and they share their carers' family and community life.
For Nigel Hunter and Bridget Collins, who both have a learning disability and have been living with carer Emily Moody, the service has been so important during 2020.
Nigel has lived with Emily and her partner Garry in Drayton for 10 years. The 62-year-old said: 'I like living with Emily and Garry. I have been here a long time.
'They take me on holidays and I am part of the family. I like my hobbies with Garry like darts and pigeons. I like days out with the grandkids too.'
He added: 'I wanted to go to day service but Emily explained that I couldn't because of the virus. It was OK because we kept safe at home. Emily gave us puzzles and games.'
Bridget, 61, agreed. She has been with the family for nine months. 'I have only been here a little while but I feel at home,' she said.
'I like my room and I like living with Emily and Garry and I like living with the dogs. I like knitting and I like drawing. Emily helps me.
'Emily explained about the virus. We went out for walks when we could. Emily took me. I've liked knitting, painting and crafts.'
Emily has been a Shared Lives carer for 12 years after being inspired by her mother-in-law who did the same.
The 53-year-old said: 'It has felt different this year. Trying to explain how the virus can affect people was challenging.'
But she was hopeful the family could do more together next year. 'I hope that we are able to have a holiday,' she said.
'I would like to take Bridget and Nigel on a short break to Butlins when safe to do so.'
To find out more about the programme visit portsmouth.gov.uk/services/health-and-care/adult-social-care/shared-lives.
A message from the Editor, Mark Waldron
You can subscribe here for unlimited access to Portsmouth news online - as well as fewer adverts, access to our digital edition and mobile app.
Our trial offer starts at just £2 a month for the first two months.