Milton couple who postponed wedding three times finally marry
It was sheer determination and a bout of good luck which meant Emma Simmonds and Mark McGarry finally married.
Tuesday, 6th October 2020, 10:16 am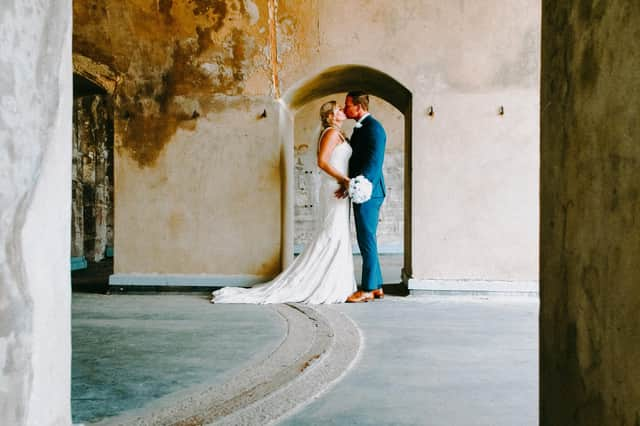 Mr & Mrs McGarry's wedding day on September 26 - the last Saturday before the Covid 19 '15 rule' came into action. Picture: Beside The Seaside Photography
After postponing their wedding twice, the couple tied the knot at the Holiday Inn, Southsea, on September 26 in front of 20 guests.
But there was something about 2020 which made Mark and Emma determined to get married, despite Covid-19.
Emma, 45, says: 'We have known each other for years and met again through mutual friends.
Emma and Mark on their wedding day on September 26, 2020. Picture: Beside The Seaside Photography
'Mark proposed to me in the Sistine Chapel while we were on holiday in Rome in November 2013.
'There was a running joke that we were going to get married in 2020, which seemed like a world away. I always said that's too far away but then we had our little boy Arlo in 2014 so everything was put on hold.
'By the time we thought about it again, it was nearly 2020. We were quite determined to have it this year.'
Their original plan was to get married in April, but like many couples, they had to cancel and postpone their big day. They saved the date for October 3.
The McGarrys on their wedding day. Picture: Beside The Seaside Photography
Emma, 45, says: 'Our first date was April 25 at the Holiday Inn, Southsea, and we booked it around 18 months in advance.
'We were only going to have around 20 people on the day and then a bigger reception with around 190 people in the evening.
'And then obviously coronavirus came along so we had to cancel that one. We rescheduled it for October 3 because we thought by then, everything would be back to normal.
'Our reception party is postponed until April 24, 2021.'
However with Boris Johnson's new coronavirus warning came a restriction on weddings, with only 15 guests allowed and that number includes the bride, groom and registrar. Instead of trying to whittle down their already-small 20-person guest list, Emma made a few calls.
'When the first restrictions came in so you could have 30 people at your wedding, we thought that was absolutely fine,' explains Emma, who works at the maternity ward at St Mary's Hospital, Milton.
'But when everything changed last week, I was at work all day so I wasn't keeping up with what happened. I was at work and realised I had to change everything.'
The new wedding restrictions of 15 guests came into effect on September 28. To ensure they could have all of their nearest and dearest attend, Emma brought her wedding forward by one week and changed the date of her wedding a third time.
She explains: 'I rang the Holiday Inn and said don't suppose you have any space this Saturday and they did.
'I then got Mark to ring all of our guests to see if they would come while I found a registrar.
'We had to move everything and everyone was so good.'
The week before her wedding was manic, but Emma wouldn't have had it any other way now.
'This time last week, I was in floods of tears and said I couldn't organise everything. And now we're married,' adds Emma.
'And I get to wear my dress again next year.'
Emma and Mark, 46, are hoping to jet off to Italy for their honeymoon.
'We have booked our honeymoon to go to Italy next week but that was always planned.
"But I'm not holding my breath,' she says, laughing.
'My son walking me down the aisle was a highlight for me. It meant the world because the past couple of years have not been easy.'
'I think the best bit for Mark was having everyone together and having his uncle as his best man.'