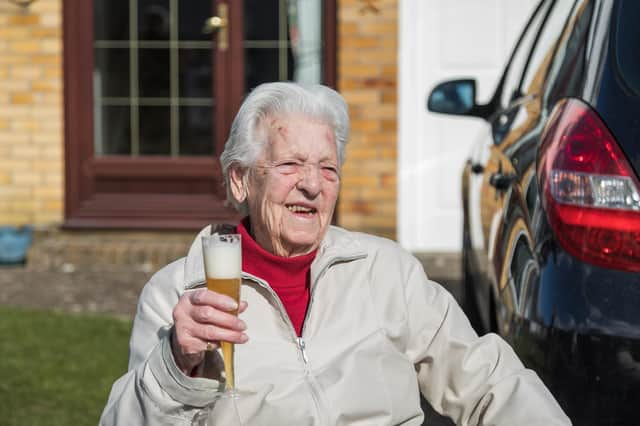 Jean Morley
Those living in Langbrook Close, Langstone enjoyed a glass of bubbly for stalwarts of the street Jean Morley and Shirley Bateman, who had no idea neighbours were marking the occasion.
Jean is now just four years shy of a century after turning 96 on Saturday while Shirley turned 85.
The widowed pair are the longest serving residents of the community spirited road with Shirley having moved into the close in 1959 and Jean not long after.
Neighbours in Langbrook Close mark Jean Morley's 96th birthday Picture: Mike Cooter
Both pensioners were treated to cakes, flowers and gifts in the street and a socially-distanced rendition of 'Happy Birthday'.
Jean said: 'I'm very happy. I never realised they were doing anything. It's very nice of everyone.'
Sandra Jones, 71, who has lived in the street for over 30 years, said: 'It is commendable to be their age and be so independent.
The street party in Langbrook Close, Langstone Picture: Mike Cooter
'They are both great characters. Jean broke her hip last year but you still have to tell her to slow down.
'Shirley still organises a lot of street events we have. She organised a party when Prince Charles and Princess Diana got married so has been doing it a long time.
'You can have a good chat and laugh with them.'
Neighbour Sue Tout, 39, said: 'They brighten up the streets and we like looking after them. They are both very caring.
Jean Morley has 'Happy Birthday' sung to her by neighbours on her 96th birthday Picture: Mike Cooter
'It is a close community down the road and we know that if someone is not well and needs help there are people there. We look after each other.'
Ernie Wells, the 84-year-old neighbourhood watch co-ordinator, said: 'It's a nice gesture. They have both been here from the word go and are a big part of the neighbourhood.
'All the other widows in the street have someone nearby to help them which is why we look out for Jean and Shirley. I take Jean to her appointments and she's always asking me to do her electrical repairs.
'It's a nice little close and everyone knows everyone.'
A message from the Editor, Mark Waldron
You can subscribe here for unlimited access to Portsmouth news online - as well as fewer adverts, access to our digital edition and mobile app.
Our trial offer starts at just £2 a month for the first two months.