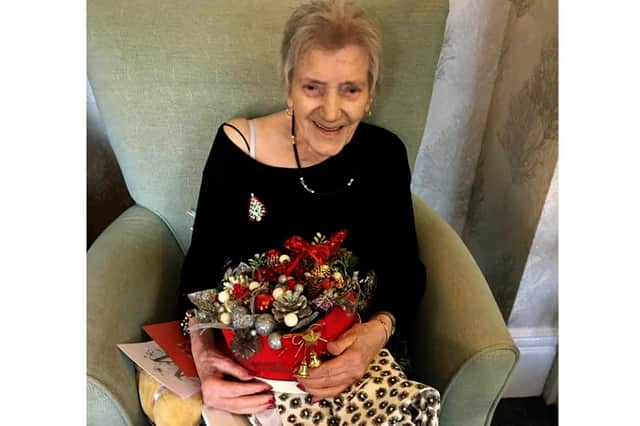 Ivy Kingswell celebrates her 105th birthday.
Having survived two world wars and fended off Covid-19 earlier this year after she tested positive, Ivy still has a smile on her face.
Due to the pandemic, she sadly couldn't see her family on her birthday but the team at Cams Ridge Nursing Home, Portchester – where she lives – celebrated with her safely. In November, The News helped Ivy's family appeal for birthday cards to be sent to the birthday girl and she opened many on her special day.
Ivy adds: 'I just can't believe I have reached 105.'
Born in Portsmouth in 1915 to Robert Heselwood and Louisa Mason, Ivy was just a few months old when her father was killed onboard HMS Hampshire in 1916. Her mother, Louisa, later remarried and Ivy grew up with her half-brother, James, and half-sister, Gladys.
Some of her favourite memories are from when she lived at her grandmother's farm in Gosport with her favourite horse called Traveller.
After leaving school, Ivy trained as a Norland Nanny and looked after many children during her career.
Ivy's granddaughter, Ashleigh Rhys, says: 'She later worked in Sainsburys when it was in Fareham Precinct as a cook for the staff canteen, she loved chatting to all the students.'
When she retired, cooking remained as one of her favourite hobbies as well as gardening.
Ivy married her first husband, Eric Street, in 1936 when she was 20. While in Italy serving in the Cheshire Regiment, Eric was sadly killed in 1944. Ivy remarried when she was 32 and was widowed in 1989.
Ivy has one daughter, Ann, who now lives in Cornwall as well as two grandchildren, four great-grandchildren and five great-great-grandchildren.
When asked what she thought was the most important lesson she has learned in life, Ivy smiles and says: 'Always take time to talk to people even if it's just a good morning or hello, kindness costs nothing.'