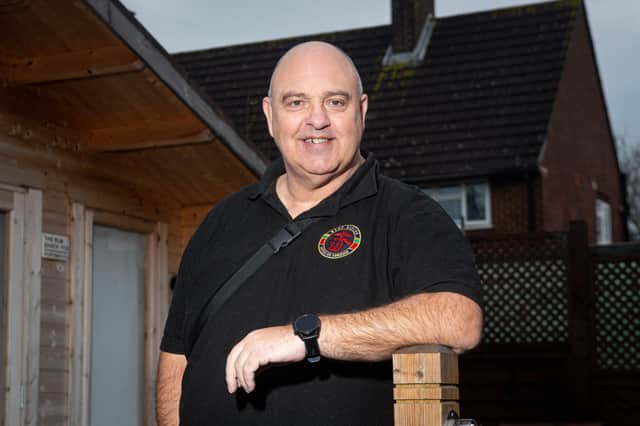 Graham Street has been awarded a British Empire Medal for his services to charity, having worked with Charlie's Beach Hut Pictured: Graham Street in his home in Cosham, Portsmouth on 29 December 2020. Picture: Habibur Rahman
Graham Street, from Paulsgrove, has been named in the Queen's New Year Honours for his incredible work for Charlie's Beach Hut, a charity established in 2012 that gives families of children with life-limiting illnesses a holiday to create precious memories together.
Through his fundraising, the 56-year-old has raised more than £250,000 and is continuing to fundraise for the charity, despite now living with stage four cancer.
On being awarded a British Empire Medal, Graham said: 'It's absolutely fantastic, this is such a nice honour.
'When the letter dropped onto the doormat it really came out of the blue.
'It's incredible that somebody thinks enough of you to nominate you for something like this, that's very humbling.'
One fundraiser saw Graham swim the entire length of the Solent in 2016.
He also serves as the Master of Ceremony for the charity's annual dinner, which welcomes 250 guests each year.
The charity has since expanded to support the families of firefighters who have lost loved ones in the line of duty, as well as families who have recently lost children to terminal illness.
He said: 'The charity was set up by Charlie's parents, Karen and Steve, after he died from an inoperable brain tumour – they wanted to help families who were in similar situations.
'I wanted to do my bit because I knew them quite well, so have done triathlons, charity swims and plenty more to raise money for them.'
Graham has also been working in the Royal Navy since 1993, currently working with phase two trainees at HMS Collingwood in Fareham.
Still serving to this day, he's had to overcome plenty of challenges himself, after being diagnosed with cancer four and a half years ago.
He said: 'It started out as stage three bowel cancer, but now I am in stage four.
'I'm essentially just living with cancer – it's not going to go away.
'But what it has done is given me a new perspective on life. I want to keep plugging on and doing my bit for as long as I am able to.'
A message from the Editor, Mark Waldron
Our trial offer starts at just £2 a month for the first two months.