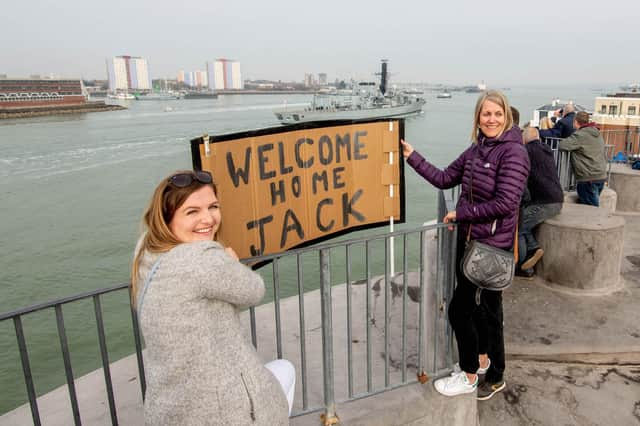 Georgia Davis and Michelle Feltham on the Round Tower, Old Portsmouth welcoming HMS Lancaster as it arrives in Portsmouth. Picture: Habibur Rahman
HMS Lancaster had linked up with the Norwegian navy for a patrol of the Norwegian Sea and combined training in the confined waters of the country's fjords.
The multi-role warship worked with HNoMS Thor Heyerdahl to improve the smooth operation of the two allies, with two Norwegian Air Force F-16s providing the ships with a foe in the Arctic skies.
Now back in Portsmouth, the ship's company will be able to enjoy Easter leave, and maintenance will be taken out on the frigate herself after being battered by the winter seas.
HMS Lancaster's Commanding Officer Cdr Will Blackett salutes as his ship parts company with HNoMS Thor Heyerdahl. Picture: Royal Navy
The ship was welcomed back to Portsmouth Naval Base by family and friends of those on board.
Among those eagerly anticipating the ship's return was Michelle Feltham and Georgia Davies, who brought a sign with the words 'Welcome home Jack' to hold as they witnessed the ship sail in.
Georgia, from Bournemouth, has been partner to weapons engineer Jack Feltham for around a year.
HMS Lancaster manoeuvres in a fjord as seen from HNoMS Thor Heyerdahl. Picture: Royal Navy
She was excited to welcome her boyfriend back after his 12 week absence at sea, and waved to him from the top of the Round Tower.
Michelle, Jack's mum, said: 'He's been away since January, so not too long but long enough.'
Portsmouth-based Michelle says she has taken some time off work to welcome her son back home.
Due to late winter storms in the Arctic Circle, the two warships sought the shelter of the fjords which meant that bridge teams could have extra training in confined waters.
It also allowed the ship's company to experience some rare Arctic sightseeing while conducting damage-control drills.
Commander Will Blackett, HMS Lancaster's commanding officer, said: 'This has been a busy but rewarding period, and once again I am proud of my team who have dealt with challenging conditions throughout.
'Our Norwegian friends have been a pleasure to work with and the ease with which we integrate proves the value of the NATO alliance – HNoMS Thor Heyerdahl is an impressive ship and I look forward to further operations together in the future.'
A message from the Editor, Mark Waldron