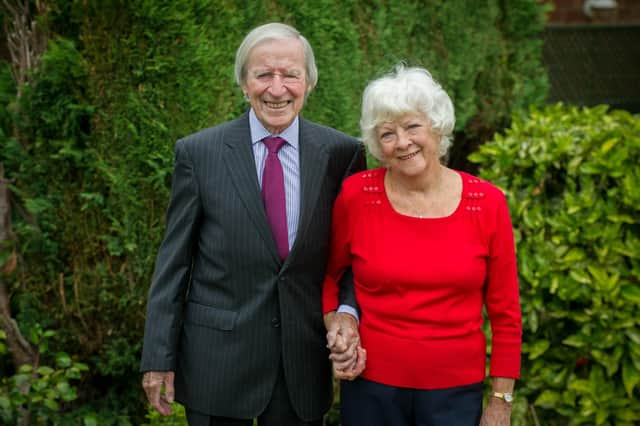 Tessa and Eddie Maher celebrate their diamond anniversary at home in Rowland's Castle. Picture: Habibur Rahman
Whatever it may have been, Edward is mighty glad he did because 60 years later, the couple are still laughing and smiling together just like they did all those years ago on their first date.
Edward, known as Eddie, says: 'I was 24 and she was 21.
'We met while we were both working at a chemist in Chelsea, London. On Christmas Eve, after we finished work, we walked to the train station together. We were going in opposite directions but I asked if Tessa would like to go for a drink.'
Eddie, 84, says they announced their engagement and date of their wedding on February 5, 1960. Four months later, they married at a church in Ewell, Surrey – Tessa's home town – on June 4, 1960.
'We both changed jobs and worked for a company which was moving to the Havant area,' says Tessa, 81.
'We moved to Clanfield from Surrey and bought a little bungalow.
'When we moved, we said we would give it a try down here in the south to see if we liked it. We love it here.
She laughs and says: 'We always say how did we ever live up there.'
Throughout their lives, both Eddie and Tessa have been keen golfers and Tessa still plays.
Eddie says: 'We love golf and played a lot at Rowlands Castle. It didn't make sense that we worked in Havant and lived in Clanfield while playing golf at Rowlands so we moved to Rowlands in 1970.' We're both very good golfers,' adds Tessa. 'We have travelled a lot of the British Isles and all over Great Britain. We love Scotland. Britain is such a beautiful place and the food here is good, so we haven't travelled abroad too much.'
Although they haven't been able to celebrate how they hoped, the Mahers and their friends made sure they marked their special anniversary.
Tessa says: 'With what's going on, it's hard to plan a celebration. But last week, we had a couple of friends round in the garage to celebrate at a social distance with some champagne and cake.
'We also had a good celebration for our golden anniversary.'
'It's amazing. When you first get married, 60 years seems like such a long time away,' adds Eddie. But when you get there, 60 years feels like no time at all.'
When asked about the secret to a happy, long marriage, Tessa smiles and says: 'Tolerance is the key to a successful marriage.
'We have never argued over money either. It's not mine or his, it's ours.'