Verity's Gift: 'Absolute pride' as charity set up in memory of late Emsworth mum is launched
'WE'VE done the hard part by setting up – now this is where our journey begins.'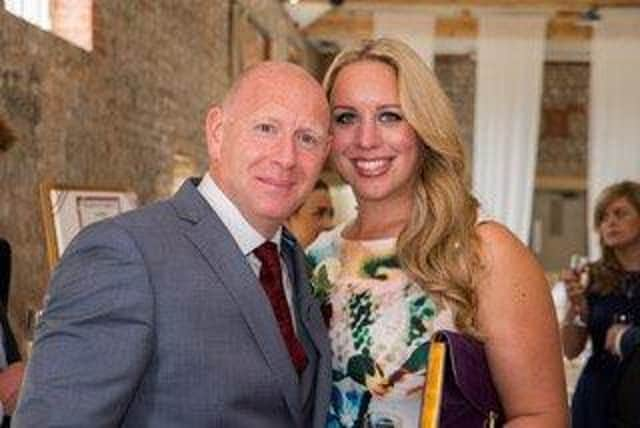 George Turner and his late wife, Verity. George, known by many as Topsy, is launching the charity Verity's Gift in Verity's memory. She died in 2018 after a short illness. Picture: George Turner
The good cause, Verity's Gift, has plans to help people in need and complete a £100,000 renovation of Emsworth Park's children's play area.
Business owners, councillors and supporters of Mr Turner, known as Topsy, attended a launch event at the Brookfield Hotel yesterday.
Front, Verity's husband and founder of Verity's Gift, George 'Topsy' Turner, with Verity's mum and committee member June Powell with back, from left, Brian Whittle, chairman, Christina Novis, treasurer and Graham Steel, committee member. Picture: Sarah Standing (120320-7187)
Mr Turner, 48, said: 'This is a double-edged sword because I would rather be setting up a charity for another reason.
'But to be setting it up in memory of my wife brings me a feeling of absolute pride.
'I want this to be a charity people can come to when they are in need – and that could be be anything from a local organisation, like a Scout group who need their hut re-painted, to mums and dads who have lost their partners and feel like there is no one they can talk to.
'No one prepares you for that – it feels like your heart has been ripped out – but I want this to be a charity people can approach at times of need.'
As previously reported Verity, the mother of Mr Turner's five-year-old daughter, Harriet, died after a short illness in 2018, aged just 33.
She had been taken to Queen Alexandra Hospital with a 'terrible' headache but tragically died of a brain haemorrhage a week later.
To keep her legacy alive Mr Turner has launched a plea to people who may need the charity's help and donors who could support it.
'If people are going through what I and my daughter have over the past two years they should not be frightened to contact us,' he said.
'There can be times when you think nobody wants to hear about your problems and that is simply not true.
'And for people who want to help, your money or time is so appreciated. This is just the start and your support would be fantastic.'