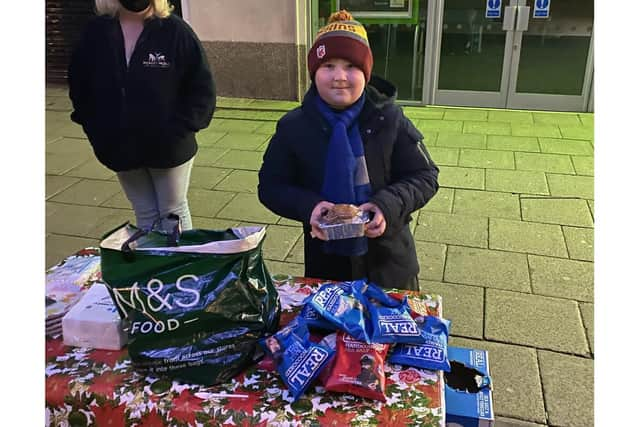 Albie Leahy has been serving up hot meals to homeless people in Portsmouth after raising funds and gathering donations to support Helping Hands
One young boy has gone above and beyond to help others, by giving up so much of his time to collect gifts and cook food to bring a smile to homeless people.
Albie Leahy has been awarded the Spirit of Youth in The News' We Can Do It awards after showing how selfless young people can be with his efforts to help those less fortunate.
Albie Leahy created shoeboxes for the homeless people of Portsmouth to enjoy at Christmas
The Waterlooville youngster said he was very surprised and excited about winning the award. 'I wasn't aware I would be nominated but I am very happy,' he said. 'Hopefully I have made people aware of all the homeless people and maybe other children can do the same as me.'
His mum Laura added: 'We as parents are so proud of Albie's dedication to try and make the world a better place. He really cares for others and has so much empathy. He is our hero!'
Albie's kindness has not only won him this award, but has also made his family feel very proud of his giving nature.
Mum Laura Leahy said: 'He honestly blows me away, he's just so caring. He loves going out and feeding the homeless, he loves interacting with them and making them happy.
'He just realises how lucky he's got it. He cares about other people and hates the thought of people upsetting anybody.
'I just love that he's really positive, he sees the good in everybody. He's my hero really.'
A message from the Editor, Mark Waldron