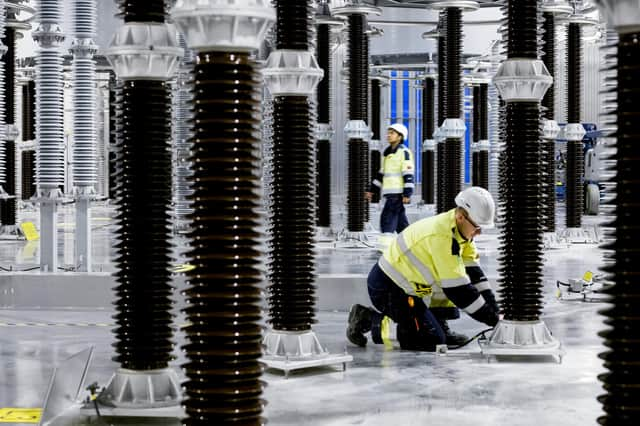 An image provided by Aquind of inside an existing converter station. Picture: ABB
Business, energy and industrial strategy minister Kwasi Kwarteng said the planning inspector is examining an application by Aquind Ltd to build the new electricity link.
The company wants to lay a 148-mile cable between Lovedean and Normandy, which would run ashore from Eastney and slice through Portsmouth.
The firm said the new interconnector could supply cheaper, greener electricity, eventually providing up to five per cent of Britain's power.
Protestors make their voices heard over the plans for Aquind to run interconnector cables through Portsmouth Linda Spence, one of the organisers of the protest on October 10. Picture: Richard Lemmer
But the ambitious project has enraged campaigners in Portsmouth, who argue it will destroy vital green space and allotments, with Aquind seeking a compulsory purchase order to buy up huge swathes of land along the cable's route.
Now business, energy and industrial strategy minister Kwasi Kwarteng has insisted the government is scrutinising all compulsory purchase bids.
The Tory MP added: 'The planning inspectorate is currently examining the application for development consent for the proposed Aquind interconnector project…(its) report on the development consent application for the Aquind interconnector, including any compulsory acquisition matters that have been raised, will be carefully considered once it is submitted to the Department for Business, Energy and Industrial Strategy.'
The stance comes as senior politicians in Portsmouth are being called to continue their war against Aquid's two-way cable.
Councillors at Portsmouth City Council previously unanimously backed measures to oppose the interconnector.
The cash would go towards paying for experts and lawyers to battle the energy giant.
Now, the authority's cabinet is being urged to maintain its opposition as part of an updated report.
'The council should continue to represent the interests of the people of Portsmouth and maintain its opposition to the proposal,' Paddy May, corporate strategy advisor, recommended in a report ahead of Tuesday's cabinet meeting.
Aquind aims to start delivering power in 2023 if its application to the planning inspectorate is approved.
A message from the Editor, Mark Waldron
The News is more reliant than ever on you taking out a digital subscription to support our journalism.
You can subscribe here for unlimited access to Portsmouth news online - as well as our new Puzzles section.