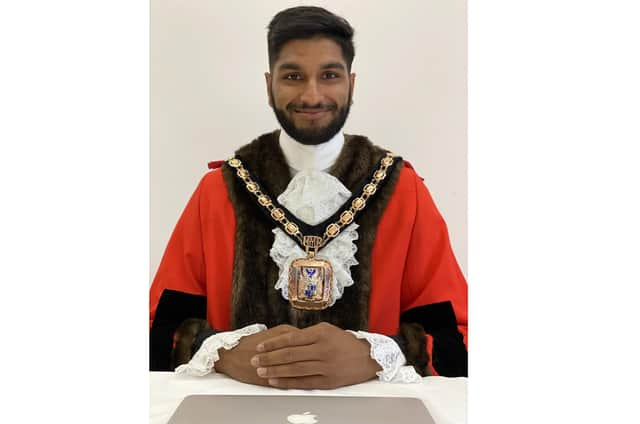 Hart Plain ward councillor Prad Bains is mayor of Havant for the 20/21 term
The discord has led to one councillor being sacked from a position of responsibility and another threatening to step down.
FOI requests submitted to Havant Borough Council by a former Havant Conservative Party deputy chairman have sparked the internal conflict.
However, mayor Prad Bains, Conservative ward councillor for the Hart Plain ward, insisted he has done nothing wrong and is instead being targeted by a 'circle of harassment'.
Cllr Bains said: 'I don't want to play the victim card but unfortunately I have been the victim of a harassment and bullying attack.'
A complaint has been made against him this mayoral year, including concerns raised about his alleged treatment of staff and over his use of the chains of office and their transportation to official events.
The row has seen Cllr David Keast stripped of his position as chair of licensing after a fall out with council leader Michael Wilson in which Cllr Keast challenged why, in his view, the complaints had not been investigated satisfactorily.
Cllr Keast said: 'It's about treating people as they should be treated, and justice in this case has not been done.'
In emails seen by The News, Cllr Narinder Bains, the mayor's mother, threatens to step down from the party, citing 'ongoing bullying' of her son as the reason.
In a message to the Conservative group, Cllr Bains states that her son will not be giving up on his Hampshire County Council aspirations and calls for an end to the 'childish campaign' against him.
The Mayor said he believes the situation is 'linked to targeted personal harassment attacks'.
He said: 'People will try and spin the truth to their own agenda to try and get some sort of reaction.
'It just goes to show that people will go to any length to discredit or tear down someone who's been so proactive in the community, really jumped into every possible thing they could have done this year.
'I get the impression that a tiny minority of people don't want to see a young, diverse, local community representative doing well and being successful.'
A spokesman from Havant Borough Council said: 'The council takes all complaints seriously and considers these carefully to ensure fairness for all parties.
'For this reason, it's not the council's policy to comment on complaints about councillors currently being investigated.'
FREEDOM of information requests have thrown the Mayor of Havant's expenses into the spotlight.
An FOI request to Havant Borough Council, submitted by Bart Smith, former Havant Conservative Party deputy chairman, showed that in the eight months between July 2020 and March 12, the mayor Cllr Prad Bains had received £1,500 in allowances.
Of this total, £1,287.55 was for clothing items for the mayor and the mayoress - including a Christmas elf costume - as well as £110 for charitable donations, and £102.45 for petrol for driving to official appearances.
Mr Smith, who lives in Chicago, where he is the chairman of the Chicago branch of the Tory Party, said: 'Every mayor, whatever their political party, will incur some expenses fulfilling their duties, but designer gear, numerous outfits and coats that dwarf the weekly jobseeker's allowance are inappropriate items to charge to the taxpayer - especially at a time of national crisis.
'Whether it's our current mayor - or mayors past - they should set an example and spend appropriately or risk detracting from the wonderful work they do for local causes.'
Councillors for Havant Borough Council are permitted an allowance of £5,891 per annum.
The same FOI request showed that Cllr Diana Patrick, mayor of Havant from May 2019 to July 2020, received a personal allowance of £2,045.50, of which £1,255.50 was expenses for clothing items.
A personal allowance of £2,485.15 was paid to Cllr Peter Wade when he was mayor of Havant from May 2018 to May 2019, £1,025.05 of which was reimbursement for clothing items.
Cllr Bains said: 'Out of every recent mayor, I have received the least amount of remuneration.
'If you look back into records for previous mayors, they've all received far, far more in allowances than I have.'
Cllr Bains, Conservative ward councillor for the Hart Plain ward, was the youngest mayor to be elected by Havant Borough Council when he took over the role aged 24. The former Cowplain School student was elected to represent the Hart Plain ward in 2018. He said that despite the discord, he was proud of what he has achieved in office so far, especially raising money for charity Hannah's Holiday Home.
He added: 'I've done over 120 events, when most other mayoralties have stopped throughout the pandemic.
'I engage with every single resident that I possibly can, throughout the year I've been so lucky to meet so many incredible people and go to wonderful places across our borough.
'People have seen how much I've managed to do across the borough.
'We've raised nearly £10,000 for Hannah's Holiday Home without having a single usual fundraising event, no supermarket bucket collections, no coffee mornings, no classic car runs.
'I led Think Pink week, engaged nearly 10,000 children across the borough in support of raising awards for Hannah's Holiday Homes.
'I led Waterlooville Helping Hands in supporting some of the most vulnerable in our community through the pandemic.
'I've been incredibly proactive - I've made the most of this unique year, and really done all I could have done for the borough.
'I'm really proud of what we've managed to achieve this year.'