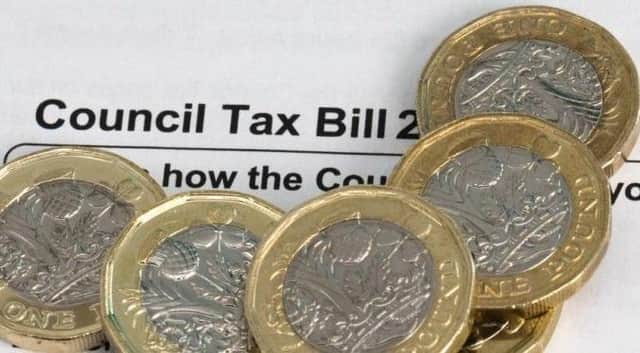 Miss Robinson faced council tax arrears
And if that situation involves thousands of pounds worth of debt, it can seem all the more hopeless.
This was the case for Havant mum-of-two who discovered she owed around £6,000 to various bodies when her partner of 15 years left.
The woman, who did not want to be named, had become a stay at home mum since having children, with her partner the main breadwinner.
Miss Robinson faced arrears on her utility bills
And with the ex gone, the former body piercer was at a loss.
The 31-year-old, who lives in West Leigh, said: 'All the bills came to me. I found out he hadn't been paying council tax.
'When I realised all this and I called up various companies it turned out we owed about £6,000.'
So she joined the thousands of others in the UK who every month resort to individual voluntary arrangements (IVAs) - a form of insolvency that can leave people in even more debt.
Figures show more people in Portsmouth are now resorting to IVAs when they get into debt. Picture: Getty Images
Doing so saw her charged an extra £4,500 in fees alone.
An IVA is an agreement with your creditors to pay all or part of your debts. You make regular payments to an insolvency practitioner, who will divide this money between your creditors.
However, there are fees to pay along the way including for set up, and a handling charge each time you make a payment.
'I went on the internet and looked up financial advisors,' the woman said.
Councillor Chris Attwell urged people to seek impartial debt advice
'I found this group and they started giving me advice. It seemed brilliant.
'The idea was that they would put all the debt into one and I would pay it back in monthly instalments.
'They dealt with all the paperwork and speaking to the different companies so I thought it was great.
'It seemed attractive when I had this huge pile of bills - I couldn't even look at them.
'I had at least 10 bills to pay back including council tax, the water, the electric and the gas. They were just the basics.'
A year later, the woman found she couldn't afford to make the monthly payments of around £80 and contacted her council housing office for help.
They helped her request her credit reports and, although she'd made some payments and paid the fees of the insolvency practitioner, she now owed more than £15,000.
Roughly £4,500 of this came from IVA fees and another £4,500 in new utility bill debt that she had struggled to cover on top of her monthly IVA payments.
'I was devastated,' she said.
'I thought I had been getting somewhere but I was back to square one.'
Luckily for her she was eligible for a debt relief order (DRO) - a means of having debts written off if you owe less than £20,000 and have few assets.
She said: 'I stopped using the group and the officers helped me with a relief order which meant my debts could be cancelled after a year if my circumstances remained the same.
'This was really hard because I wanted to get a job but I couldn't. I was struggling to buy the basics such as clothes but I had really nice neighbours who helped me out.
'My debts were finally cancelled in February this year so I have now applied for jobs and it feels like I can get my life back again.
'If anyone is ever in the same situation as me I would say go to your council for advise - don't find it on the internet. They promise you the world but none of it is true.'
Her warning to others comes as more and more people in Portsmouth are taking out IVAs.
The number of IVAs taken out each year in the city has almost doubled - from 179 in 2015 to 332 in 2019.
And the latest national data shows a sharp rise in IVAs during the pandemic, with approximately 4,950 IVAs registered in May 2020.
Recent figures also demonstrate that many IVAs fail within the first three years, leaving people exposed to additional debts.
Councillor Chris Attwell, the city council's communities cabinet member, said: 'The pandemic has put huge pressures on many people's finances.
'Whatever the reason, if you are struggling to afford your debt repayments, or are concerned you might fall behind, help is at hand.
'You do not have to pay for debt advice: you can get independent and impartial support from a local debt advisor, or national debt charity, to help you get back in control of your finances'
The advice from independent money advisers is to seek free and impartial debt advice before entering a debt solution agreement.
For more information and details of where to go for help visit portsmouth.gov.uk/money
What Citizens Advice says
FEARS have been raised that the economic impact of the coronavirus pandemic will lead to more people resorting to IVAs.
A spokeswoman for Citizens Advice Portsmouth said: 'The pandemic has hit people's finances hard.
'While many have been able to save money and repay debts, there are more who have had to borrow to get through it, and who are increasingly vulnerable to financial problems caused by unexpected issues like missed benefit payments, unexpected bills, or redundancy.
'Borrowers may have benefited from payment holidays on mortgages and credit cards and may have had their wages supported by the job retention scheme and increase to benefit income.
'IVAs are attractive options for people who have large assets they wish to protect, such as property and vehicles, which could be at risk from bankruptcy.
'However, they can cost thousands of pounds to administer and often fail, pushing people further into debt and if you still can't keep up with repayments you could end up being made bankrupt anyway.'
Get help from caportsmouth.org.uk or citizensadvice.org.uk/debt-and-money/debt-solutions.'
Where to go for free, impartial debt advice in Portsmouth
YOU don't need to pay for debt advice or borrow more money if you're struggling to pay your debts. An independent debt advisor will explain all your options, make sure you are receiving the income you're entitled to and help find ways to reduce your household bills.
n Call Advice Portsmouth to speak to a debt advisor. Call (023) 9279 4340, text 07789 550593 or email [email protected]
n Citizens Advice have a specialist debt advice team in Portsmouth. Call (023) 9400 6600 to speak to an advisor or email [email protected]
n You can also get debt advice online at any time of day from StepChange
n If you're a city council tenant, you can get debt advice and support from your housing officer, who has access to specialist money advice.
A message from the Editor, Mark Waldron
You can subscribe here for unlimited access to our online coverage, including Pompey, with 70 per cent fewer adverts for less than 20p a day.