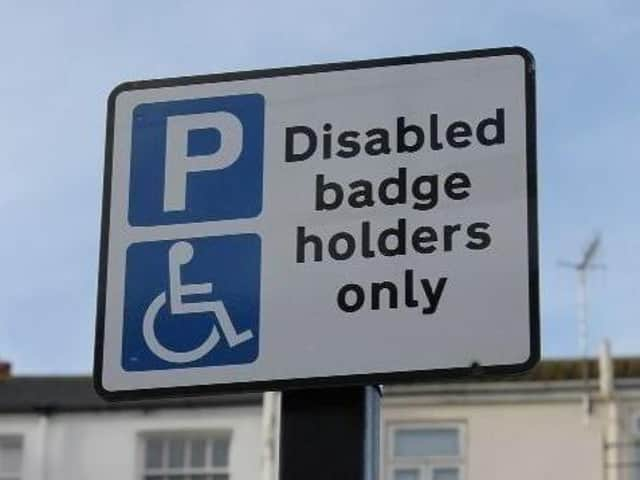 Portsmouth had the 10th highest difference between people with physical and hidden disabilities being granted blue badges in the country
New figures, gathered by the BBC Shared Data Unit, showed Portsmouth City Council had the 10th largest difference between people with physical disabilities and those with non-visible disabilities being granted the parking permits.
Since August 2019 - when badges for non-visible disabilities became permanently available - just 38.2 per cent of applicants with hidden disabilities in the city were successful in getting badges.
Whereas 91.8 per cent of people with physical disabilities were successful in that time.
This means Portsmouth had the 10th largest discrepancy out of 109 councils that responded to freedom of information requests.
James Taylor, from charity Scope, said: 'This research highlights the urgent need for staff training of the decision makers in the councils, so they can recognise and understand the range of hidden impairment.
'Councils need also to understand the devastating impact their negative decision can have.'
He added that the removal of accessible parking bays next to shops and amenities 'overnight, without any consultation' to allow for social distancing during the pandemic had also had a 'massive impact' on disabled people.
Eligible hidden disabilities include autism and mental health conditions.
The Department for Transport said it would review the new criteria.
However, Pam Turton, Portsmouth council's assistant director of transport, explained many of the successful applications from people with physical disabilities would have been badge renewals that are needed every three years.
She said: 'All the renewal applications were made by applicants with physical disabilities as the criteria for hidden/non-physical disabilities was only introduced on 30 August 2019.
'If you consider all applications the renewals very significantly increase the success rate of those with physical disabilities compared to those with hidden/non-visible disabilities.
'It is also important remember that the assessment criteria is linked to the degree to which any condition or conditions affect the applicant while walking.'
Since August 2019, 2,487 blue badge applications (both for physical and hidden disabilities) were made in Portsmouth with 2,284 of these successful.
In the Hampshire County Council area people with hidden disabilities were 18.2 per cent more successful in badge applications than those with physical disabilities.
A message from the Editor, Mark Waldron
You can subscribe here for unlimited access to Portsmouth news online - as well as fewer adverts, access to our digital edition and mobile app.
Our trial offer starts at just £2 a month for the first two months.