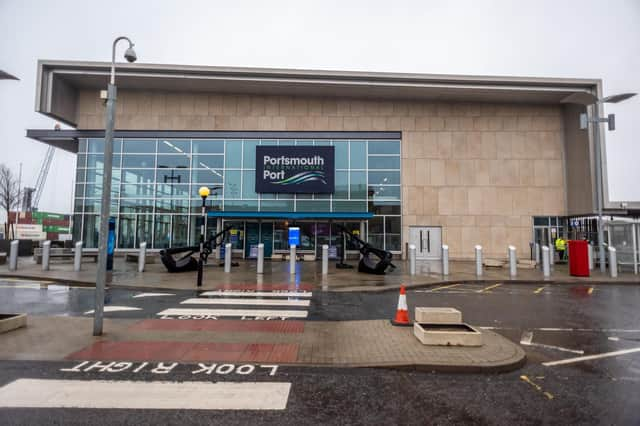 Portsmouth International Port (Photo by Andrew Hasson/Getty Images)
Portsmouth City Council is set to launch a judicial review after failing to secure more cash to ready Portsmouth International Port for new border checks.
Having been awarded £17.1m out of a requested £32m, the council-owned port has scrapped plans for a live animal border control post and a freight gate expansion.
But a mandatory border control post for products of animal origin is still £5.2m short.
The possible legal action comes as government postponed its original deadline of July 1 for seaports and airports to have a new border operating model up and running.
Council leader Gerald Vernon-Jackson said: 'It has been a really shoddy deal from government. The fact that we didn't get the money we needed but other ports such as Dover and Holyhead did is wrong.
'So we are looking into a judicial review against the government on this.
'We are really grateful for the work of our MPs over this but the reality is we haven't been given a single penny more despite their efforts.'
Yesterday government confirmed the delayed border operating model deadline means physical checks must be ready by January 2022 for products of plant and animal origin, with live animal checks moved to March.
Licence and regulatory checks - which is mainly paperwork - have been moved to October.
Portsmouth South MP Stephen Morgan said: 'Portsmouth International Port is still being left in limbo for the funding it needs for its border control points for livestock, leaving our port and its related businesses without the certainty they desperately need, as the government once again opts to kick the can down the road at the eleventh hour.'
Port director, Mike Sellers, welcomed the deadline shift.
'We will now be in a strong position to manage effective checks on imports when they come into force January next year,' he said.
'Creating a border control post is a complex build because it also involves having to accommodate a bio-secure environment. This postponement is a huge relief and we appreciate government reviewing the situation.'
Councillor Vernon-Jackson branded the postponement a 'lifesaver'.
'This means we can actually get the border control post built in time because there was no way it was getting done in a few months,' he added.
Paymaster general and Portsmouth North MP Penny Mordaunt said: 'This has been done in response to listening to businesses.
'They have a great deal to contend with and we want to ensure they are supported.
'All partners need to continue to work at pace in building infrastructure and systems for the future border. We are determined to give everyone what they need to succeed.'
Cabinet Office minister Michael Gove yesterday said businesses made a 'strong case that they need more time to prepare'.
He said: 'In reviewing the timeframes, we have given strong weight to the disruption which has been caused, and is still being caused, by Covid, and the need to ensure that the economy can recover fully.'
A government spokesman said: 'Our ports play a vital role in helping trade flow in and out of the UK and we are making significant preparations to ensure they will be ready for staged introduction of border controls.
'We continue to work very closely with all ports that have been allocated funding via the £200m Port Infrastructure Fund on the delivery of their projects.'
A message from the Editor, Mark Waldron
You can subscribe here for unlimited access to Portsmouth news online - as well as fewer adverts, access to our digital edition and mobile app.
Our trial offer starts at just £2 a month for the first two months.