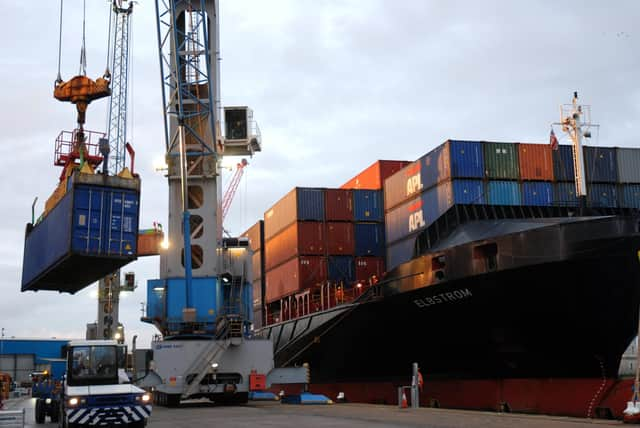 Freight has been heavily affected by the UK's departure from the European Union. Picture: EN License
2mv Logistics, an international freight-forwarder company that works with dozens of exporters from across Portsmouth, had previously warned that Brexit threatened a 'messy' situation with lorries queuing across the city.
While these scenes of disruption have not come to pass, the company reports that many freight firms faced lengthy delays as they adjusted to life outside the EU.
Across the first two months of the year, more than 70 per cent of the firm's customers were hit with delays caused by changing paperwork requirements, according to sales manager Graham Truckel.
He said: 'Transit times that would take three to five days door-to-door would take two weeks or more.
'The situation was at its worst through January and February.
'We did have quiet a few problems moving freight to Ireland – that has been the biggest challenge.
'Ireland wasn't geared up for the process.
'It was very difficult to manage customers expectations – we were telling business that they had to have documentation in place and most shippers didn't take that on board - they just pushed it to one side.'
Graham added: 'Most of them realised they should have taken more notice.'
In February, a national survey from the Chartered Institute of Procurement and Supply found that the majority of importers were facing delays of up to three days as they tried to move goods into the UK, and almost half of all exporters to the EU faced similar lags.
2mv Logistics had hoped that Brexit would bring opportunities to support new customers looking to avoid potential delays and disruption.
But the company has decided to focus on helping its existing customers navigate the new terrain, according to Graham.
He said: 'It did create opportunities. Due to Brexit, and the pandemic, and other factors, we are seeing incredible volumes of freight moving across the country.
'But we made a decision at the stat of the year to focus on our existing customers.'
Now, freight firms are beginning to return to their pre-Brexit timetables as new routines become established.
Graham said: 'We are already getting used to it now.
'There was a sharp intake of breath – and now we're getting on with it.
'Delays have died down significantly – nothing long term and nothing overly drastic.'
A message from the Editor, Mark Waldron
You can subscribe here for unlimited access to our online coverage, including Pompey, with 70 per cent fewer adverts for less than 20p a day.