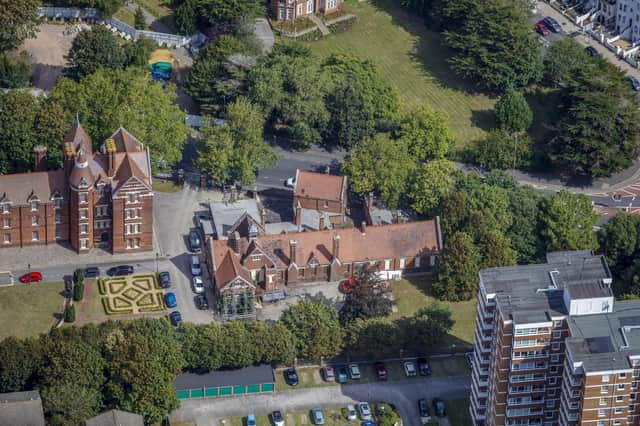 The records office in Museum Road. Picture: Portsmouth City Council
Members of the public explained what they'd like to see on the site of the disused records office in Museum Road in Old Portsmouth during an open event at the neighbouring museum.
Although Portsmouth City Council has confirmed the building will be knocked down, the amount and type of housing provided on the site will depend on consultation with the public and housing need.
The records office in Museum Road. Picture: Portsmouth City Council
Mary Devaney, project leader at the council, said: 'We have no plans yet. This is the start of it.
'The building is beyond reclamation, it's dangerous. It needs to be demolished.
'We have got a housing shortage, and a waiting list of 2,000 people. We don't know what the tenure will be yet, it depends mostly on housing need.'
Some attending the consultation had concerns about how extra homes could have an effect on traffic.
Anthony John Waite, 84, from nearby Pembroke Park said: 'There's a major road junction here. If you have lots of families put on that junction there's going to be an impact on traffic.
'But if it's got to be housing I hope it's something that doesn't attract loads of cars. If we put a dozen council houses there that'll bring in 24 cars.
'If it's a home for old people or something that will be low impact on the roads that would be better.'
He added: 'It's a shame to lose the building.'
Carole King agreed. The 77-year-old from Hartford House said: 'Road access is definitely a concern because getting out of that road is really busy.
'I can't see that we can possibly object, we need housing, it's an empty space. As long as it's not overpowering, we don't want it to dwarf the museum.'
Katy Daniels, 73, also from Hartford House, said: 'I feel very good they've asked for our opinions. Our concern is will they actually listen after?'
Feedback from residents will now be collated before plans are drawn up.