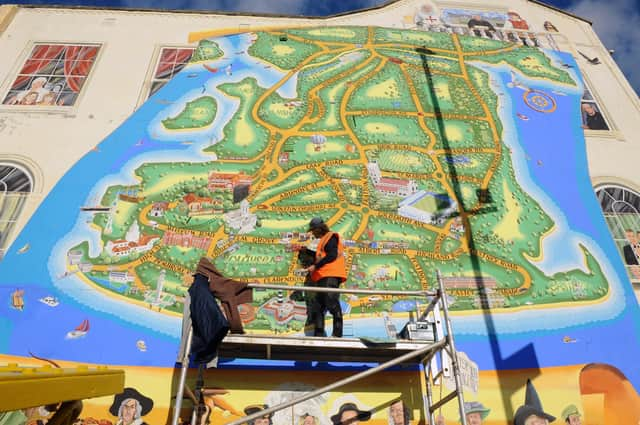 Artist Mark Lewis adding more to his ever growing mural on the junction of Waverley Road and Clarendon Road in Southsea. Picture: Sarah Standing (171120-8802)
Cash has been granted to maintain and update the eye-catching Strand city map mural on the junction of Waverley Road and Clarendon Road, in Southsea.
However, the money will come from the city council's cabinet reserve rather than community infrastructure levy (CIL) funding as originally planned, following staunch opposition from two ward councillors.
Artist Mark Lewis by the mural Picture: Sarah Standing (171120-8684)
CIL funding is a pot of cash topped up by local developers, which can be used for community projects if agreed by the relevant councillors.
A spat erupted after Eastney and Craneswater representatives, Tory councillor Luke Stubbs and independent Cllr Linda Symes said the mural did 'not need more public money.'
In a deputation made during a cabinet meeting the pair said: 'The fact is that the mural is not in danger. It was recreated a decade or so ago after being water damage.
'It does not need more public money. It should also be pointed out that everyone who appears in the mural has been charged for the privilege and that should provide a pot of money.'
But council leader, Lib Dem Cllr Gerald Vernon-Jackson, said: 'I am very disappointed to see the deputation from two Eastney and Craneswater councillors.
'I think everybody likes the mural, it's a great landmark. I think we will have to find £5,000 from central money and not use the CIL funding because the councillors there have not come to a view.'
The third Eastney and Craneswater representative, Cllr Matt Winnington added: 'If this isn't an example of community infrastructure I really don't know what is. It's really sad this has happened.'
Southsea artist Mark Lewis, who first painted the map on the 3,000 sq foot wall in 1997, said £10,000 was provided by since disbanded Southsea Town Council for the mural and a further £5,000 was given by Portsmouth council over the years.
In a deputation given at the meeting he said: 'A mural of this size, quality and longevity would cost between £50,000 to £100,000 in any city around the world.
'It seems counter-productive when this city has such a celebrated multi-award-winning and dedicated organisation and visionary artist still living and working here yet the council will not support or promote us in any way.
'It is a scar on our city's cultural face for all to see around the world and needs addressing now it is in the spotlight.'
A petition calling for the cash to be granted from the CIL fund to pay for the mural's upkeep was signed by 987 people.
A message from the Editor, Mark Waldron
You can subscribe here for unlimited access to Portsmouth news online - as well as fewer adverts, access to our digital edition and mobile app.
Our trial offer starts at just £2 a month for the first two months.