Suella Braverman calls for "end to self-deception" in Government about Rwanda plan
Suella Braverman has called for an "end to self-deception" in Government about its Rwanda plan as she laid out her five tests to ensure deportation flights can take off.
Watch more of our videos on Shots! 
and live on Freeview channel 276
Visit Shots! now
She predicted that Rishi Sunak's two-part plan would likely get bogged down in both domestic and European courts as she proposed introducing legislation that "excludes all avenues of legal challenge".
In an article for The Daily Telegraph, Mrs Braverman said a solution to the challenge of stopping migrants crossing the English Channel "demands of the Government an end to self-deception and spin".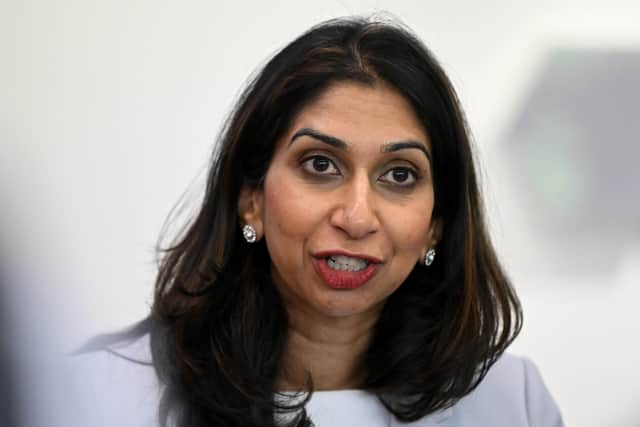 He intends to broker a legally binding treaty on top of the £140 million deal already struck with Kigali to take migrants arriving in Britain via small boats.
The yet-to-be-published treaty with Rwanda is expected to attempt to address the Supreme Court's concerns around refoulement – the potential for refugees whose applications for asylum are rejected by Kigali to be sent back to the country they are fleeing from.
Mrs Braverman, in the article, said that "amending our agreement with Rwanda and converting it into a treaty, even with explicit obligations on non-refoulement, will not solve the fundamental issue".
She proposed that ministers address concerns raised by the five senior judges about Rwanda's asylum and legal system by "embedding UK observers and independent reviewers of asylum decisions".
The Fareham MP said a new treaty with Rwanda would "still require going back through the courts" – a process that she predicted could take at least a year.
The Prime Minister has said he is aiming for the first removal flights to leave in the spring following the delivery of the reforms to his policy.
New Home Secretary James Cleverly, during broadcast interviews on Thursday, said he was "absolutely determined" to get a removal flight off the runway before the next election.
A general election is expected to be held next year, with Mr Sunak needing to call a vote by January 2025.
The British leader has made "stopping the boats" one of his five pledges to the electorate ahead of the next election.
The Government's next steps on the Rwanda policy is expected to face opposition to its plans in the House of Lords.
Lord Sumption, a former Supreme Court judge, told the BBC the plan to use a law to declare Rwanda as safe is "constitutionally really quite extraordinary" and would "effectively overrule" a decision by the UK's highest court.
Under pressure from the right of the party, Mr Sunak has kept the threat of pulling out of the ECHR on the table for the future in his battle to deport migrants.
Mrs Braverman, however, did not call for such action in her five tests.