Taxi drivers in Portsmouth could be expected to go emission free by 2025
TAXI drivers in Portsmouth could soon be refused a licence if their vehicles are too old.
Friday, 27th November 2020, 5:44 pm
Updated
Friday, 4th December 2020, 4:02 pm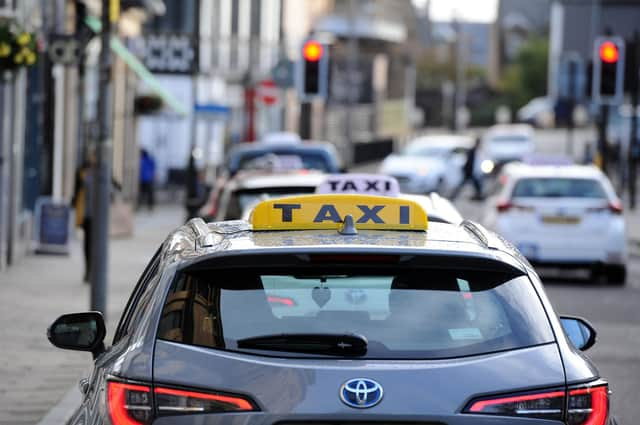 Taxis in Portsmouth could face tougher restrictions to improve air quality. Picture Michael Gillen
If new policy is agreed next week then drivers of hackney cabs or private hire vehicles can get an initial licence of four years.
But this would not be extended if the car is then older than eight years old.
Currently there is no maximum vehicle age for their re-licensing.
The move to reduce air pollution would come into force in January 2022.
It comes as councillors are being asked to approve a plan that would see all new licences only handed out to drivers with electric vehicles, from 2025.
The city council hopes this will secure £500,000 from government to provide charging points at taxi ranks.
One taxi driver who has worked in Portsmouth for more than 40 years, who did not want to be named, said: 'If they could tell us where we could find an affordable electric vehicle for January 2025 that would be great.
'A Nissan Leaf costs around £30,000, and the electric black cabs - that aren't even fully electric - are around £60,000.
'So you're saying we would have to spend all that money just to wait around for £3 jobs. There's not the earning potential to make it worthwhile. We are being unfairly penalised.'
The council's environment boss, Councillor Dave Ashmore, said the changes were being considered in line with the government's aim to ban new petrol and diesel cars in 10 years.
He said: 'It's a way to see what's possible and what's going to be challenging so we can look at what the problems are now.
'This is something we have been talking with the trade about for a while but now the government is saying the sale of petrol and diesel cars could be banned by 2030 this is something we need to start considering.'
Drivers can apply for up to £7,500 from the government's plugin grant funding to buy new low emission taxis, or up to £3,000 off of the purchase of a new car, which could be licensed as a private hire vehicle.
It comes as non-compliant taxis – petrol vehicles older than 2006 and diesel cars older than 2015 – are among the vehicles that will be required to pay to enter a new clean air zone in the city next year.
The changes will be considered on Friday, December 4.
A message from the Editor, Mark Waldron
You can subscribe here for unlimited access to Portsmouth news online - as well as fewer adverts, access to our digital edition and mobile app.
For Black Friday we've slashed the cost of a new subscription by 30 per cent - so you can get unlimited access to our coverage for as little as £1.40 a month.