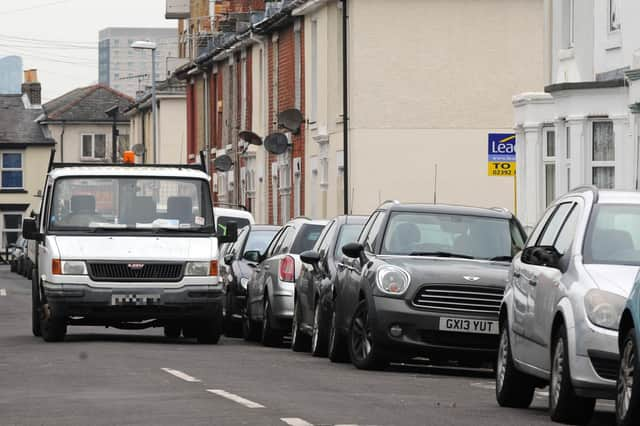 A van in Southsea. Picture: Paul Jacobs (132272-1)
Proposals set to go out to consultation for the zone next week could now include vans and minibuses. The project has been directed by government in a bid to reduce air pollution levels.
Plans submitted by Portsmouth City Council earlier this year for a zone – charging certain buses, coaches, taxis and heavy goods vehicles – were accepted as a way to reduce levels of harmful nitrogen dioxide.
A clean air zone will be introduced in Portsmouth next year to improve air quality
But the government has now said the council must consult on a different type of zone – which also includes charging older vans and minibuses.
This is in case the effect of the coronavirus pandemic means the measures under the earlier Class B zone – excluding charges for minibuses and vans – is no longer enough.
Builder Hugh Meadows, from H Meadows Building Services, branded the idea a 'joke'.
Mr Meadows told The News the measure was targeting 'the person struggling to make a living anyway,' and added: 'They're getting the bloke struggling at the moment because he's losing money in Covid.'
The area of Portsmouth that could be a chargeable clean air zone if agreed by government. Picture: Portsmouth City Council
He said: 'It's just wrong, they shouldn't be doing that.
'I can understand if they were going to do the London thing where they charge cans to come into the city but not vans already in the city.
'You're talking £50 a week. It's a joke that they're going to charge £10 a day.'
The zone would cover an area in the southwest of the city – just below the M275.
Area manager for Milton Glass, Andrew Meade, had concerns. He said: 'I think this is stupid, and I think it will make companies consider moving out of Portsmouth.
'I've been here for more than 35 years and what they are suggesting is ridiculous.
'We have five vans in our fleet so that's £50 per day for us, it's just a total money grab.
'I really don't think they've thought about how this could affect local businesses.'
From Wednesday members of the public will be asked what they think of charges of £50 a day for buses, coaches and lorries, and £10 a day for taxis, vans and minibuses.
The council's environment cabinet member, Councillor Dave Ashmore, said he accepted the charge for traders in vans could be 'devastating for many small businesses recovering from lockdown'.
He said: 'The Department for Environment, Food and Rural Affairs has insisted it would be prudent to ask people about a Class C zone that would involve light goods vehicles.
'We need to get their views now. We are trying to understand how this will affect behaviours and what people think of the proposed charges.'
The council is set to receive £1.7m to help people upgrade their vehicles to make them compliant, and thereby avoid a daily charge.
Compliant vehicles are petrol vehicles that are Euro 4 (around 2004) or newer, and diesel vehicles that are Euro 6 (around 2016) or newer.
Keith Hooper, director of Pentland Plumbing in Portchester, believed it could encourage people to upgrade their vehicles. 'I think it will impact so many people it will make them have to move with the times and upgrade their vehicles,' he said.
'But I would have thought a lot of people would choose not to go into the city or would avoid those roads.
'If I'm down in the city three or four days a week that's £40. All bar two of my vehicles would be compliant.
'We would have to try not to send those two vehicles into the city but if we get a call out suddenly we might not have the option.'
Plumber Matthew Beckett, from Pompey Plumb Ltd, said there were good and bad points to the plan.
He said: 'There's too much traffic – it might deter people from having a vehicle, and having one for no reason.
'It won't affect me personally but I know it will affect people who won't like it.'
The council has been allocated more than £6.2m to improve air quality in Portsmouth, including the cost of implementing a zone.
A supplier of automatic number plate recognition cameras has already been secured.
It is thought the zone will be in place by the end of 2021.
The consultation will begin on Wednesday, July 15 and will run for six weeks.
A message from the Editor, Mark Waldron
Thank you for reading this story. The dramatic events of 2020 are having a major impact on our advertisers and thus our revenues.
Every subscription helps us continue providing trusted, local journalism and campaign on your behalf for our city.