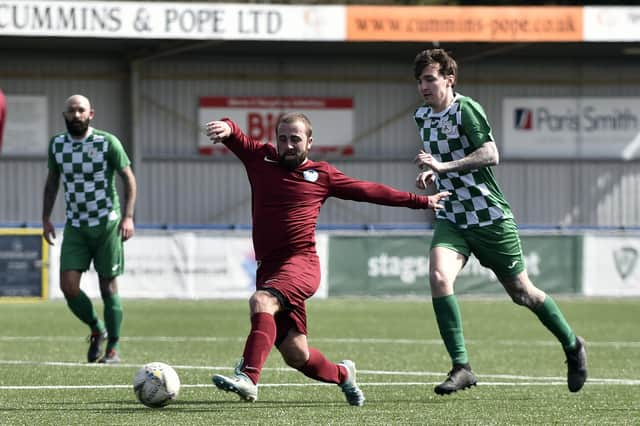 Burrfields' Craig Ball (maroon) in action during his side's Mid-Solent League loss to Mob Albion at Westleigh Park. Picture: Allan Hutchings
As competitive grassroots football returned after an absence of more than three months, Alex Bone's men came from behind to end Burrfields' seven-game unbeaten run in the spring sunshine on the 3G surface at Westleigh Park.
Though top scorer Jack Palmer gave Burrfields the lead, Mob hit back through Barry Keogh, Frank Penfold and Cameron Palin.
They could even afford the luxury of a missed penalty in the first half and the 74th minute red card awarded to centre half Jake Naylor by stand-in ref Bunny Redding.
Burrfields' Sam Waterman (maroon) and Mob goalkeeper James Griffiths can't get a touch on a Jack Palmer cross during the Mid-Solent League encounter at Westleigh Park. Picture: Allan Hutchings
With leaders Meon Milton surrendering their 100 per cent record in a 3-3 draw with Wymering, Mob are now just three points adrift - and the two teams meet at Hawks' ground on April 17.
Before then, Mob host third-placed FC Strawberry - again at Westleigh Park - next Saturday as part of a Mid-Solent League triple header at the ground.
On the balance of chances created, Mob thoroughly deserved their victory - Burrfields keeper Dwayne Gray was far, far busier than James Griffiths in the visitors' goal.
But Burrfields were left frustrated by an offside flag robbing Palmer of a goal that would have made it 2-2 shortly after Naylor had been shown a second yellow for a foul on Burrfields debutant Jesse Parkis.
Burrfields keeper Dwayne Gray makes a fingertip save against Mob Albion. Picture: Allan Hutchings
Palmer tapped the ball into an empty net after Griffiths had fumbled a through ball, but after consulting with the linesman Redding disallowed the effort and spared the keeper's blushes.
Mob had looked the more creative side right from kick off, Harry Potter testing Gray with a series of shots.
Most were routine, but the keeper produced a superb fingertip save at the expense of a corner after a neat Andy Brown back heel had given Potter a clear sight of goal.
It was therefore against the run of play when Palmer gave Burrfields a 16th minute lead, a low 25-yard shot beating Griffiths' dive and nestling into his bottom right-hand corner.
Barry Keogh (middle) has just levelled for Mob Albion against Burrfields. Picture: Allan Hutchings
Mob were straight back on the offensive and levelled four minutes later, Keogh forcing the ball home from close range.
Albion were handed a great chance to take the lead on 22 minutes, Craig Ball giving away a needless penalty for a foul on Potter - but the latter fired his effort wide of Gray's left-hand post.
Mob remained a threat going forward, with the nearest Burrfields coming to a second goal was when Palmer arrowed a pass across the six-yard box with the sliding Sam Waterman inches away from connecting.
After an entertaining and open first 45 minutes the second period began with a period of very scrappy play with passes regularly going astray.
Jesse Parkis (left) congratulates Jack Palmer on his goal that gave Burrfields the lead against Mob Albion. Picture: Allan Hutchings
Mob took the lead just before the hour mark when Mike Prew found sub Penfold free in the box and he calmly netted.
Burrfields, though struggling to create chances, remained firmly in the game and right back Joe Western found himself in a great position on the edge of the Mob penalty area, but was unable to find the unmarked Palmer.
Burrfields' Harvey Herringshaw was booked for a foul on Joe McIntosh before Naylor saw red for bringing down the lively Parkis right on the edge of Mob's 18-yard box.
Palmer's tap-in was ruled out shortly after before Mob - despite now being a man short - were able to still find numerous gaps in the Burrfields defence.
Gray couldn't hold a Potter shot, the ball holding up short just a foot from the line, and neat inter-play between Potter and Prew ended with Palin shooting wide.
Less than a minute later, though, Palin completed the victory with a fine finish after being left unmarked on the left-side of the penalty area.
Overall, both sides should be congratulated for adopting a passing style. Though this was grassroots football, albeit in a stadium fit for EFL action, there were hardly any hopeful punts forward and virtually no crude challenges.
It is the first Mid-Solent League game I have covered for The News, and I was pleasantly surprised at the quality (I hope that doesn't come across as patronising, for it's not meant to).
Mob deservedly won because they passed the ball better, kept the ball better, and were more creative.
Bearing in mind most of their team once played for Clanfield in the Hampshire Premier League's top flight as recently as 2018/19, that was probably to be expected despite having not played since mid-December.
The 3G at Westleigh Park encourages a passing game, and the next two matches against Strawberry and Meon Milton should be attractive, competitive encounters.
It would be lovely if spectators were allowed in to watch them.
Burffields: Gray, Western, Billett, French, Jennings, Ball, Bleach, Herringshaw, Palmer, Waterman, Parkis. Subs: Dewing, Saunders.
Mob: Griffiths, Byerley, Peters, Naylor, Gurney, Prew, McIntosh, Johnston, Keogh, Potter, Brown. Subs: Penfold, Winslade, Palin.