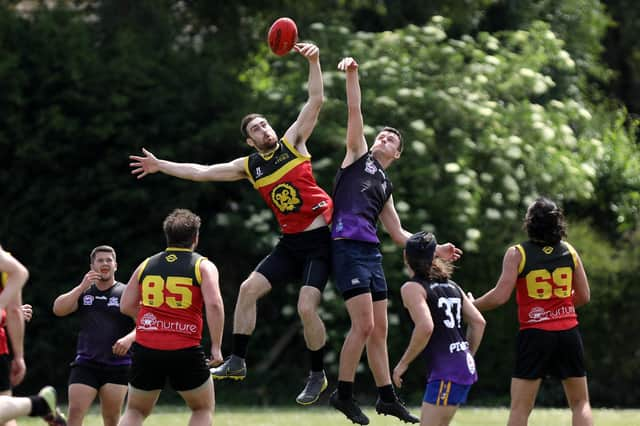 Portsmouth Pirates take on North London Lions in an AFL league game at Warblington School. Picture: Chris Moorhouse
Created in conjunction with Portsmouth Pirates, AFC Portchester Vikings is the newest team to come under the Wessex League Premier Division club's umbrella.
The Pirates, who play in the AFL London League, are looking to work with a number of sports clubs in the Portsmouth area and launch a nine-a-side league from next summer.
Currently, Southsea Nomads RFC and AFC Portchester have AFL sides but Pirates chairman John Titcombe is hoping that number increases as they look to grow Aussie Rules interest within the city region.
A number of taster sessions will be held this summer as Vikings look to grow their membership.
Titcombe believes teaming up with a football club can help increase interest and get people involved in the sport who may not have previously known about it.
He explained: 'The plan is for a long-term thing (with AFC Portchester) - it's what we're looking for.
'As a club, we're well aware Aussie Rules isn't that well known over here.
'More dominant sports like football, rugby, hockey and that kind of thing take precedent for players' time.
'What we're trying to do is establish links with local clubs to grow the word of the sport and, ultimately, get more people playing it for the benefit of our club and the community so they've got something else they can do.
'For us, our season runs in the summer, whereas football, rugby and hockey, their seasons have ended so it's the off season.
'We saw it as a bit of an opportunity of keeping players together, keeping players active and learning a new set of skills they can then take to their sports and things like that.
'That's the plan that we've had in place.
'We're trying to establish these links. It's more than just the sessions that we're trying to do this summer, it's something we've had in the pipeline and been trying to do in the past two years or so, but Covid put a big dent in that.'
Players who sign up for Vikings could also have the chance to represent Pirates, who will continue to play in the 18-a-side version of the sport in the London League.
Titcombe, who has been Pirates chairman since the club was formed in 2008, is hoping joining forces with Portchester is the first step to creating partnerships with a host of other sporting clubs in the city and beyond.
He said: 'We want to get that player base and that regular year in, year out rapport with the local community clubs.
'Southsea Nomads, the local rugby club, they're on board as well and we've been in touch with a few other rugby clubs and a couple more football clubs.
'It's just to try to get teams started there as well and they play in partnership with us.
'Those people who just want to represent their own little hub team, they can do that in the nine-a-side, but those who really take an interest can then come and play for the
Pirates in the London League.'
Anyone interested in being part of AFC Portchester Vikings AFL team should contact [email protected]