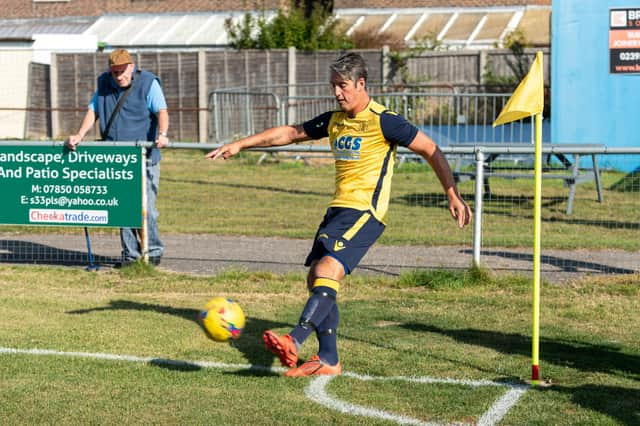 Brett Poate pictured during his Moneyfields career. Picture: Vernon Nash
Manager Dave Carter and his assistant Gavin Spurway swapped Moneys for Wessex League AFC Portchester earlier this week.
Yet, as things stand, Poate remains in his role as a coach at Moneyfields - albeit with 'non-elite' football currently suspended because of the pandemic.
Carter appointed the former Hawks and Gosport defender to his backroom team last summer after he chose to hang up his boots following three years playing at Dover Road.
But Poate says he now needs time to assess the current situation and has not yet spoken to the club - although he had a brief discussion with Carter - before finalising his next step.
He said: 'I think that's it (taking time over decision).
'I've just vaguely spoke to Dave and Gav (Spurway), I would have thought over the next week or two something might happen.
'We'll just see what comes from it and we'll go from there really.
'I haven't spoke to anyone at the club and everything is a bit up in the air at the moment anyway.
'I'm just going to wait around and see what happens.'
Poate reckons taking on the role of Moneys manager might have come too soon for him.
The 36-year-old is presently in his first coaching position and that has come in a season severely shortened because of the pandemic.
Poate can call upon an impressive playing career which saw him operate in the National League South with Hawks, Eastleigh and Gosport.
But the former full-back acknowledged he probably needs a little more time on the touchline before applying for managerial positions.
'I don't know (about going for Moneys manager role),' added Poate.
'I think it may be a little bit too early, if I'm completely honest. This is my first year out of football and it's been stop-start, stop-start so it hasn't been the ideal year to come into it.
'Looking at it, I know I've got the experience of playing, but I think I could do with a little more experience on the touchline, but never say never.'
Poate is refusing to rule out becoming part of Carter's Royals coaching team.
'Yeah, definitely, it's something I'd definitely think about (joining Portchester),' he remarked.
'I think, as I say, I could do with a little bit of time learning off other people.
'I don't think I've got enough experience to step up (to a manager's job).
'I've had two years playing for him (Dave) and a little bit on the sides with him.
'Obviously, his record of getting teams promoted from the Wessex League - what he did with Moneyfields - he knows he can attract the players, the local players, especially at Wessex level.
'He'll probably try to take a few with him from Moneyfields because he knows they've got the experience of getting out of that league which they're going to need.
'I've got no doubts about it, he'll be able to attract the players to get them out of the Wessex and into the Southern League, where they want to be.'