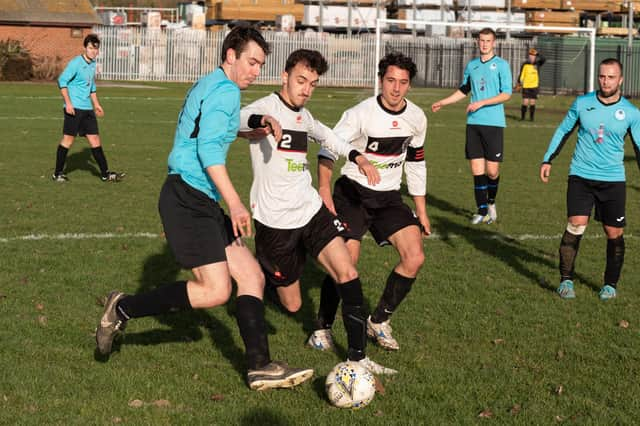 Jordan Shuttleworth (blue) was on target as Burrfields defeated Wymering 4-1. Picture: Duncan Shepherd
They netted twice inside the opening 12 minutes en route to a 4-1 win against Wymering.
Normally, Burrfields would have just one league match left - against title rivals Mob Albion, who are five points behind but have two games in hand.
But clubs have been told that a third round of league fixtures will take place in order to extend what would otherwise have been a shortened campaign.
Clubs were 'informally canvassed' for their views but the extra games were always coming in once the FA had given permission.
'One of the Division 1 clubs (Portchester Rovers) would have finished their season if we hadn't agreed the extra games,' explained league official Rob England.
'It wouldn't have been nice to see most clubs finish their league games by mid-February.
'This way we can keep playing into April and also get all the cup competitions finished.
'Losing three clubs before Christmas made it more of an issue.'
The top flight started with eight clubs but Old Mill withdrew due to a lack of players after some very heavy defeats.
In the second tier, Diamond Sports and Fratton Trades also withdrew, leaving the remaining clubs with just a 12-game league programme.
Burrfields were certainly one one of the clubs delighted to carry on playing.
'To be fair, the league did ask our views on extending the season,' said manager Brian Kirby. 'We were happy for this to happen as my lads just want to play football.'
Burrfields led Wymering 3-0 at the weekend thanks to goals from Themis Chatziantoniou, Jesse Parkis and Jordan Shuttleworth before giving away a 'soft' penalty on the stroke of half-time.
'In the second half we made a couple of tactical changes to freshen things up but found ourselves under pressure from an energised Wymering who had a lot of possession but failed to create many clear cut chances,' reported Kirby.
'They decided to play a more direct game and took every opportunity to pepper our keeper with long throws into the penalty area and used their height advantage from corners, but without success.
'Defensively my team looked strong and we kept them out.'
Steve Mitchell came off the bench with around 10 minutes remaining to add the final goal.
Mob Albion netted twice in the last five minutes to salvage a 3-3 draw against Meon Milton.
Connor Smith (2) and Barry Jeans appeared to have given Meon victory, but Mob hit back to grab a point through goals from Alex Lowley, Harry Potter and Barry Keogh.
Burrfields host Mob next weekend in the quarter-final of the Hampshire Vase, and three weeks later host them again in the league.
It was a 5-5 draw when the two clubs met in the Mid-Solent earlier in the season.
England, meanwhile, said the league are keen to welcome new clubs for next season.
'One of the current clubs could be entering a reserve team and as usual we're talking to the (Mid-Solent Youth League) Under-18 clubs to see if any want to step up.
'We had Stubbington last season and now this season the Baffins Milton development squad have been a significant addition to the second division.
'We want to expand the league if we can, and get Saturday afternoon football back to the force it once was.'