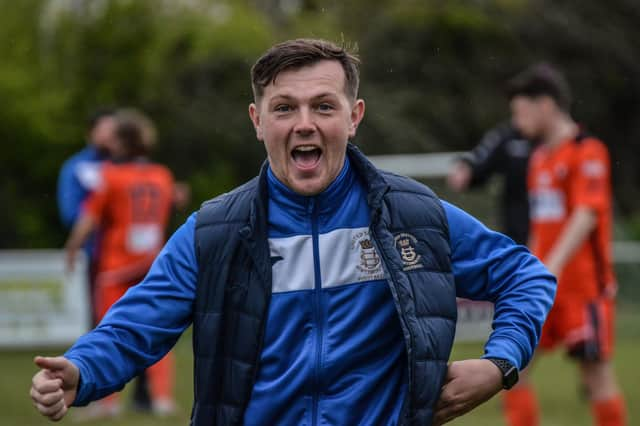 US Portsmouth midfielder Callum Glen. Pic: Daniel Haswell.
The midfielder and his team-mates are making a fifth round trip to a side they know very little about in Western League Premier Division heavyweights Tavistock.
In their run to the last-16 stage, US Portsmouth have faced much more familiar opposition, beating Wessex League Premier teams in four of the five rounds they've come through so far.
But Glen believes the fact they head to west Devon knowing next to nothing about Tavistock's squad will prevent them from being overawed on a massive occasion for both clubs.
He said: 'Obviously, we're going into the unknown.
'None of us know any of their players and they don't know us. Especially with us being underdogs, it'll probably be a good thing for us not knowing much about each other.
'We don't get too overawed by the other teams because what it does do is give us a point to prove.
'We've kind of wanted to prove a point (against Wessex Premier teams) because we feel if we were in the league above we would be up there with the teams who we've played.
'But not knowing them, maybe if we knew them and they considered themselves to be higher level players than it might have been an issue.
'But we don't really know any of their players so we're not going to be too worried about them. I know I certainly won't be, but we do consider ourselves the underdogs.
'We've all been looking at the bookies odds as well but we're definitely confident going into it.'
The last-16 trip to Tavistock is the first time USP have been drawn away in the FA Vase this season, although they did switch their first two games, against AFC Portchester and Bournemouth Poppies, to The Crest Finance Stadium.
Glen admitted facing a 170-mile trip Devon on the day of the game is far from ideal preparation.
But he hopes the 'buzz' of the occasion can help push them through to a home quarter-final against Fareham Town's conquerors Plymouth Parkway or Flackwell Heath.
Glen said: 'We were looking at travelling up on Friday but because of the Covid situation it was difficult to get hotels and stuff.
'I definitely see it as a disadvantage going up on the day because you're going to be a bit stiff and tired having to wake up early, but hopefully the buzz of the game will get us through that.
'Once you get to the journey home, hopefully with a win, it shouldn't be too bad for us.'